The Walking Dead Villain Promoted To Series Regular For Season 4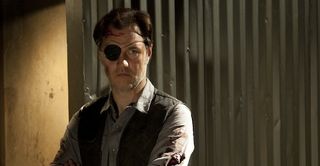 Spoilers if you haven't seen last night's Season 3 finale of The Walking Dead!
If The Walking Dead's third season left off with one major cliffhanger - beyond whether or not Rick's prison has enough chairs to seat all of the Woodbury people - it's what will become of the Governor? With David Morrissey's character tucking his tail between his legs after slaughtering most of his so-called army, and taking off to parts unknown, we're left to wonder if the Governor will be back sooner rather than later. It looks like sooner may be the more accurate guess.
THR has reported that Morrissey will be back in Season 4 as a series regular. When he was first cast in the series, he was originally set up to appear in the third season, and there was no word on whether we'd see him beyond that, but seeing as he survived the finale, which is more than can be said for Milton and Andrea, a return seemed inevitable at some point. I thought maybe the show would move on to some other obstacle, and the Governor might come back during the twist ending of some random episode, but the fact that he's been made a series regular suggests we'll be seeing a lot of him next season.
The Governor's survival marks a pretty major deviation from Robert Kirkman's comics. While many may be disappointed that the character didn't see the same end as his comic book counterpart, the fact that he survived offers plenty of potential for interesting and unexpected things in the future, much in the way Shane's survival through the first (and most of the second) season did. Plus, it means more David Morrissey on The Walking Dead, which isn't a bad thing either.
Read our full breakdown of last night's season finale of The Walking Dead here.
Your Daily Blend of Entertainment News
Thank you for signing up to CinemaBlend. You will receive a verification email shortly.
There was a problem. Please refresh the page and try again.