Watch Amy Poehler And Tina Fey Bust Out Hillary Clinton And Sarah Palin On SNL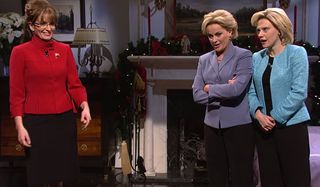 Last night on Saturday Night Live, co-hosts Tina Fey and Amy Poehler tore up the stage, putting together numerous awesome sketches. One of our favorites is a double Hillary Clinton sketch featuring Kate McKinnon and Amy Poehler, the former playing present-day Hillary and the latter playing 2008 Hillary. Then, of course, Tina Fey's Sarah Palin also shows up. Give the hilarious bit a watch, below.
McKinnon's been playing Hillary Clinton throughout the primary process and I really dig her version of the perfectly coiffed Presidential hopeful, but this sketch is just the tops. And it's not just the inclusion of Poehler's former version of Hillary Clinton that makes it work. It's the whole setup, where 2008 Hillary visits 2015 Hillary in a dream, sort of like she's the Ghost of Christmas past or whatever, who shows up to remind present Hillary how confident she used to be until Barack Obama came out of the woodworks with his cigarette and a basketball and "stole my life."
Then, McKinnon gets her chance to shine, telling Hillary that she has the Presidency in the bag, since no one knows who Bernie Sanders is and the Republican frontrunner happens to be none other than Donald Trump (although there's no mention of Marco Rubio, Ted Cruz or some of the less pop culture-oriented Republican hopefuls). It's a lot funnier watching 2008 Hillary faint at the Trump news than it is to hear me describe the sketch, so if you haven't given the comedic segment a watch, be sure to do so.
Fey's notoriously not the best at impressions, but she does do a solid Sarah Palin, and Saturday Night Live wasn't going to waver at the opportunity to bring the former VP hopeful back into the mix. She pops up in the latter half of the sketch, cracking jokes about John McCain probably being dead and how she heard Hillary Clinton "had to become a secretary" after losing the Democratic race. I seriously lol'd at that second comment.
The above video was the big political sketch of the night, but Fey and Poehler were on hand for plenty of other glorious Saturday Night Live moments. The two leading ladies also appeared during part of "Weekend Update," where they announced the two final jokes of 2015. In addition, they took terrible acting notes and hosted a game called "Meet Your Second Wife," not to mention crashed a rendition of "Santa Claus is Coming to Town" with Paul McCartney.
It was a pretty fun and also pretty wacky episode of SNL, but I guess we shouldn't expect much else from the two Sisters co-stars. You can catch more from the rest of the Saturday Night Live Season 41 cast when NBC's long-running late night sketch series returns to the schedule next month. Here's when all of your midseason favorites are returning.
Amazing Race & Top Chef superfan with a pinch of Disney fairy dust thrown in. If you've created a rom-com I've probably watched it.
Your Daily Blend of Entertainment News
Thank you for signing up to CinemaBlend. You will receive a verification email shortly.
There was a problem. Please refresh the page and try again.