Watch Craig Ferguson's Crazy, Lost Doctor Who Dance Number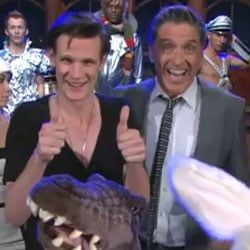 Back in November Matt Smith, the current Doctor on BBC's Doctor Who, showed up on Craig Ferguson's Late Late Show to celebrate The Doctor's impending arrival in America. The British sci-fi icon will spend some time stateside next season and, well, what other talk show would he show up on? American's haven't really ever embraced The Doctor.
To kick off his Doctor Who night back in November, Ferguson planned a big, crazy, dance number for the show's cold open, which never actually aired. He filmed it, it's incredible, but it was never shown on television. Now, luckily, the lost footage has found its way online. Whether you're a fan of The Doctor or not, it's a must watch. You've never seen anything, er, quite like it. For those of you who've managed to avoid one of the best shows on television, the music he's singing to is the Doctor Who themesong… and it's cool. Watch:
During the actual Late Late Show broadcast, what TV audiences got instead of the above, crazy, Doctor Who dance number was an explanation of why they weren't doing the dance number. Here's Ferguson explaining things back in November:
And in case you missed the episode when it aired, here's a few more clips. The entire night was basically an impassioned plea from Ferguson, asking people to watch something he flat out loves. It's moments like these that make the Late Late Show so completely different from any other talk show. Ferguson's wildly creative, weird, and passtionate and somehow, the network seems to mostly let him do what he want. Except apparently, Doctor Who dancing. Here's a few more clips from the episode.
Your Daily Blend of Entertainment News