Watch Jimmy Fallon, Conan O'Brien And Seth Meyers Pay Tribute To Robin Williams During Late Night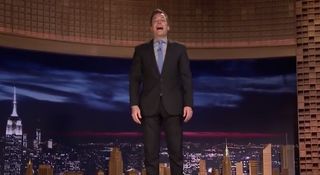 The reactions to Robin Williams' tragic death continue to come in, and that includes late night TV. The Tonight Show's Jimmy Fallon paid tribute to the actor and comedian, first with an impersonation, and then by playing a segment from Robin Williams' first interview with Johnny Carson on The Tonight Show way back when. Watch the way he interacts with the audience and moves around so much that the cameramen can barely keep up with him.
Fallon's video ends with him standing on his desk and saying, "O' Captain, my Captain, you will be missed," a nod to Dead Poets Society.
E! did a roundup of the late night talk shows that took a moment to pay tribute to Robin Williams. Conan O'Brien's video has him remembering the time Williams attempted to cheer him up by buying him a really colorful bicycle. The video leads into a compilation of William's interviews with Conan:
And finally, there's Seth Meyers, who had some kind words to say about Williams and he also talked about using this sad event as a reason to educated ourselves more on the affliction of depression...
Williams' death has undoubtedly left fans in shock and grief. But as Conan O'Brien and Jimmy Fallon's videos reveal, we're also looking back at Williams' work and all of the times he made us laugh with his stand-up, his interviews and his movies.
We came up a list of 6 Robin Williams roles we'll never forget. And 5 incredible performances you haven't seen, but need to. And we also have this list of 16 great clips from the course of Robin Williams career. That includes a different segment from his interview with Johnny Carson, and some clips from some of his most beloved movies. Check that out here.
Your Daily Blend of Entertainment News
Thank you for signing up to CinemaBlend. You will receive a verification email shortly.
There was a problem. Please refresh the page and try again.