Web Series Dating Rules From My Future Self Takes Retro Approach To Romance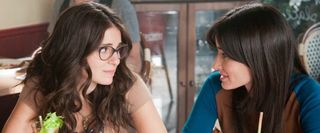 It's a high-concept pitch so high I'm kind of astonished it's not a Kate Hudson movie. What if you could send text messages to your younger self, warning mini-you not to take the subway that morning, or not to answer the phone that time, or that that milk expiration date really does mean what it says. That's the premise behind Alloy Entertainment's upcoming web series Dating Rules from My Future Self, and now they've posted a trailer for Dating on the show's Facebook page.
In addition to the trailer touting that it's "from the producers of Gossip Girl," Dating Rules is being written by Sallie Patrick (No Ordinary Family, Life Unexpeced) and Wendy Weiner, with Elizabeth Allen (90210, Life Unexpected) in the director's chair. The Life Unexpected connection isn't surprising, since the web series stars Shiri Appleby, who also appeared on that two-season CW show. The cast also includes a few other faces you'll probably recognize, most notably Martin Starr. I'm glad to see him working, but that just made me think about Party Down, and now I'm sad.
Whether you have any interest in watching a rom-com web series tinged with magical realism or not, it is cool to see original online shows gaining ever more talent and attention (not to mention sponsorships; Dating Rules' Facebook page is plastered with logos for Ford, Revlon, and more). Whether it's a short web series like this one, or something more ambitious like Netflix's original programming, it's exciting seeing online sources becoming more viable competition against traditional networks.
Dating Rules from My Future Self premieres online January 9th. Check out their Facebook page for details.
Your Daily Blend of Entertainment News
Thank you for signing up to CinemaBlend. You will receive a verification email shortly.
There was a problem. Please refresh the page and try again.