This Is What Battlestar Galactica's Jamie Bamber Will Star In Next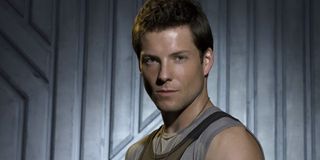 Jamie Bamber has had plenty of TV gigs over the past several years, but none have stuck for as long or have been as culturally relevant as Battlestar Galactica. Syfy's space-oriented drama made Bamber a household name, and now the actor should be hoping that his latest role will bring him steady work for some time to come. On Monday, it was announced that Bamber has signed on for a new gig, recurring in the CW's upcoming drama, The Messengers. Additionally, Motocrossed and True Blood actor Riley Smith has also joined the series.
Bamber is set to play Vincent Plowman, one of two brothers who run Plowman Family Farms. Plowman is important, thanks to being on the cusp of creating new farming technology that could eliminate both drought and famine across the globe. According to EW, Bamber's character is described as "aggressive", which will cause some problems with his brother, Mark. The news comes as Bamber's last two dramas, Monday Mornings and The Smoke have not been picked up for second seasons. Hopefully, The Messengers will have a different trajectory.
As you may or may not have guessed, Smith has signed on to play Mark in The Messengers. Mark will basically be the opposite of his brother. Instead of living the high life and pushing for Plowman, he's described as "quiet" and interested in the actual mechanics of day-to-day farm life. Sometimes opposites attract, but as noted prior, Vincent and Mark will have some problems with each other as the weeks wear on.
The two actors aren't the first people cast in The Messengers. The show is set to hit the schedule at midseason, and The CW has already added One Tree Hill's Shantel VanSanten, Gossip Girl's Sofia Black-D'Elia, Revolution's JD Pardo, Super 8's Joel Courtney, Everybody Hates Chris' Anna Diop, The Bible's Diogo Morgado and relative newcomer Jon Fletcher.
The series follows a set of individuals who are affected by a blinding light and a blast that hits the Earth. Shockwaves from the blast affect a few different people, who all collapse only to wake hours later with a slew of different superhuman abilities, including super strength and healing powers. The CW has already released some incredibly filthy photos looking at some of our leads just after the events kicking off the series happen, and the photos look unreal. I'm not sure exactly what the Plowman's will end up having to do with several of the characters exhibiting these abilities, but if Vincent is involved, the outlook may be troublesome for those characters.
Check out the photos and stay tuned as The CW continues to release more information about The Messengers.
Your Daily Blend of Entertainment News
Reality TV fan with a pinch of Disney fairy dust thrown in. Theme park junkie. If you've created a rom-com I've probably watched it.