Wilfred Preview: Episode 2 - Trust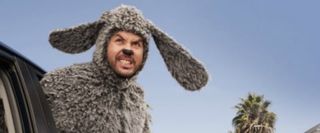 Wilfred, FX's bizarre yet very promising new comedy starring Elijah Wood, Jason Gann, and Fiona Gubelmann, premiered last week and I loved it. Apparently I wasn't the only one, since the show scored the highest ratings for a comedy premiere in the network's history. For those who don't know, the show is about the burgeoning relationship between a man and man's best friend, except that the man sees the man's best friend as a man. Wait. That was confusing. Let's try that again...
When everyone else looks at Wilfred, they see just a regular dog where Ryan, our troubled and even suicidal lead, sees something very different indeed. To Ryan, Wilfred is an Australian man in a dog suit. The premise is truly inspired, and FX adapted the show from an Australian series of the same named developed by Wilfred, I mean, Gann in 2007 (which itself was based on a short film Gann made for Sundance). After watching the first episode, I can see why this series has had enough legs to travel from a film festival short through to American adaptation.
As you can tell, I definitely recommend catching up on the first episode of Wilfred before Thursday night when the second drops (here's Kelly's review). FX has just released a preview for Episode 2 called "Trust." There are a few scenarios set up for next week that seem ripe for this show's brand of comedy, and I'm particularly excited to see them take this trip to the vet. Take a look for yourselves and see what you think. That's a good boy/girl.
Wilfred airs on FX, Thursdays at 10 p.m. ET.
Your Daily Blend of Entertainment News
Thank you for signing up to CinemaBlend. You will receive a verification email shortly.
There was a problem. Please refresh the page and try again.