Despicable Me Gets Predictable DVD Release Date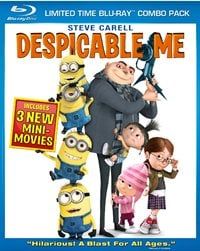 Steve Carell probably won't have to worry about paying his mortgage after he departs The Office if he keeps signing on for projects like Despicable Me, which has brought in $344 million worldwide according to IMDb. Carell lent his voice to the lead role of Gru, a super-villain of limited success whose life gets turned upside down when he's saddled with three orphans. He initially plans to use them as part of one of his nefarious schemes, but -- as so often happens in these circumstances -- the lovable orphans cause his heart to grow three sizes and reconsider his evil ways. The voice cast also includes Russell Brand, Julie Andrews, Will Arnett, Kristen Wiig, Miranda Cosgrove, and Jason Segel as Gru's nemesis, Vector.
Despicable Me will arrive on the usual array of formats, including a 3D version, on December 14th. If, like me, you don't have 3D capability in your home or, also like me, you would go out of your way to avoid having 3D capability in your home, you can also pick up a standard Blu-ray combo pack or a double- or single-disc DVD version. Let's look at the specs, shall we?
Bonus Features Available on Blu-Ray and Two-Disc DVD Versions
THREE ALL NEW, MINI-MOVIES Starring THE MINIONS -- The fun continues with three all-new mini-movies, created exclusively for the Blu-ray Combo Packs and DVD Double Pack! Available for a limited time only! Get more laughs and more minion mayhem with "Home Makeover," "Orientation Day," and "Banana" -- you'll want to watch them again and again!
THE VOICES OF DESPICABLE ME -- Go behind-the-scenes with Steve Carell, Jason Segel, Russell Brand, Miranda Cosgrove, Kristen Wiig, and Julie Andrews as they give life to their animated characters. Includes character profiles for each of the cast members!
SUPER SILLY FUN LAND -- Join Agnes, Margo, and Edith at the Super Silly Fun Land Theme Park and play Feed the Creatures and Freeze the Floating Minions to win super cool prizes.
Exclusive to Blu-Ray 3D Combo Pack and Blu-Ray Combo Pack
GRU-CONTROL -- Through a picture-in-picture window, see the making of the film with behind-the-scenes footage and cast/filmmaker interviews.
MISS HATTIE'S TOP SECRET COOKIE RECIPES -- Margo is proud to present the recipes for those wonderful cookies that the loveable orphans under Miss Hattie's care enjoy so much!
MY SCENES -- Bookmark your favorite scenes from the movie.
MINION ME -- Exclusively for iPhone and iPad -- Personalize photos of friends and family by turning them into Minions. Pictures can be customized with glasses, bowties, hats, and hairstyles to make it really hilarious! Send it to your friends with a Minion laugh.
MINION DOMINION APP -- Exclusively for iPhone and iPad -- Control a Minion by turning, tilting, rotating, and shaking your phone. Tap the screen to make him speak, tap it again to hear him laugh. Or do battle with the two-player "minion mash up." Download to your iPhone and see who can inflict the most damage on the other's minion.
Advanced Remote Control: A sleek, elegant new way to operate your Blu-ray player. Users can navigate through menus, playback, and BD-Live functions with ease.
Video Timeline: Users can easily bring up the video timeline, allowing them to instantly access any point in the movie.
Mobile-to-Go: Users can unlock a selection of bonus content with their Blu-ray discs to save to mobile devices or to stream from anywhere there's a Wi-Fi network, enabling them to enjoy exclusive content on the go, anytime, anywhere.
Keyboard: Enter data into a Blu-ray player with your device's easy and intuitive keyboard to facilitate such Blu-ray features as chatting with friends and sending messages.
Available on All Versions
The World of Despicable Me
Despicable Beats -- Director Chris Renaud talks about the cool factor of renowned music producer Pharrell Williams.
Gru's Rocket Builder -- In an all-new game, Vector has stolen some of the most famous landmarks from around the world and replaced them with the pieces to Gru's rocket. Players must return all the stolen landmarks to the correct countries in order to build their own rockets before Vector hacks into the system and steals the rocket plans. The reward for completing the rocket is a launch to the moon!
A Global Effort -- Learn all about the global effort behind Despicable Me. A director from France and another from the USA, plus an American and English cast, created a movie in France, with artists from all over the world for a truly international movie!
Commentary with directors Chris Renaud and Pierre Coffin, featuring the Minions!
Your Daily Blend of Entertainment News