The Incredibles Blu-Ray Release Gets More Incredible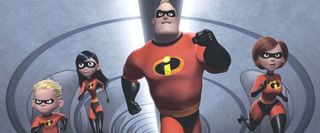 Back in January, I reported on a Blu-Ray release of The Incredibles. Unfortunately…nah, I can't do this to you. The release is still scheduled for April 12, will feature a Blu-Ray, DVD, and digital copy, and will run for $45.99 (unless you're Amazon savvy, who is currently running a pre-sale sale). This story is not one of bad news, then, but one of further news.
The Blu-Ray will come with all of classic DVD features; but, we've also got the scoop on the five new Blu-Ray exclusive specials. As previously mentioned, a filmmakers roundtable will be included with these featuring director Brad Bird, producer John Walker, story supervisor Mark Andrews, technical director Rick Sayre, production designer Lou Romano, character designer Teddy Newton, and supervising animator Tony Fucille. Amazingly, these won't be the only interviews featured. There will also be an "Ending With A Bang" segment, highlighting director of photography Andy Jimenez and character designer Teddy Newton's process for creating end credits. The only thing that may have made these interview featurettes better might have been the inclusion of interviews from the actors and actresses voicing the characters. Ah, animation, the one place where the actors don't get the street cred.
Speaking for those who do get street cred, the Blu-Ray will include an entire bonus showcasing of the multiple Pixar Story artists working on The Incredibles, as well as a ridiculous sounding "Studio Stories" hokey bit. If that's not enough to entice you already, Disney/Pixar has created "The New Nomanisan," segment that will give audiences a tour of the island featured in the movie, with a twist.
For a more fun look at The Incredibles release, you can view cover art and read the first story, here.
Your Daily Blend of Entertainment News
Thank you for signing up to CinemaBlend. You will receive a verification email shortly.
There was a problem. Please refresh the page and try again.