The Incredibles Finally Spring Into Blu-Ray Action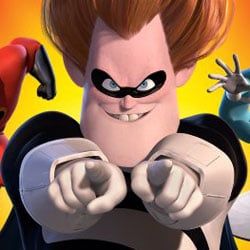 Disney's The Incredibles is currently available in DVD format, but Disney has recently announced the film will hit Blu-Ray on April 12th. A DVD and digital copy will come with the two Blu-Rays included in the $45.99 set.
The Incredibles is sort of like Watchmen for the super-young set. The animated flick features the voices of Craig T. Nelson, Holly Hunter, Jason Lee, Samuel Jackson, and best-selling writer Sarah Vowell as Violet (quick plug for Sarah Vowell: Assassination Vacation is a good time). If ever there were a reason to buy a Blu-Ray in a timely fashion, it would be this one, because the Blu-Ray set supposedly comes with a free ticket to Cars 2, which should be a fun watch even if it doesn't feature Paul Newman.
As has become the trend for an animated re-release, the special features on the Blu-Ray will be revamped, including a filmmakers roundtable, a "New Nomanison Island" Top Secret redevelopment plan, and a featurette about the making of the end credits.
Get ready to grab your super suit and go buy a copy!
Your Daily Blend of Entertainment News
Thank you for signing up to CinemaBlend. You will receive a verification email shortly.
There was a problem. Please refresh the page and try again.