Mad Men: Season 4 Slated For Release, In Lieu Of New Season?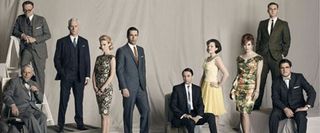 Mad Men: Season 4 was stacked this year as far as good acting performances (too many to count) and Golden Globe nominations (3) go. So stacked that Lionsgate and AMC are haggling over money before they start production on Season 5...if the show comes back at all. To tide fans over in lieu of a new season, Lionsgate will be releasing Mad Men: Season 4 on four-disc DVD and three-disc Blu-Ray sets on March 29th.
It's good Mad Men is capitalizing on the trend of releasing television on Blu-Ray, but it's interesting distributors have not chosen to add some extra features to the Blu-Ray copies of Season 4. While Lionsgate has said that the disc extras are "subject to change," so far it looks like both sets will have a three-part documentary about the laws and deep emotions surrounding divorce back in the day. This documentary will be titled "Divorce: Circa 1960s." A second featurette will be called, "How to Succeed in Business Draper Style"; this segment's all about the 10-point blueprint for success, baby. Lastly, Season 4 will include some footage of President Johnson and Senator Goldwater's campaigns, as well as commentary from executive producer Matthew Weiner and other cast and crew.
Special features may not make the wait for a new season any less annoying, but with things so up in the air with the show, it may be as good as it gets. This leaves buyers with only one decision: DVD or Blu-Ray. The Blu-Ray is officially a penny cheaper than the DVD, so not only does it yield a better picture, it's also more prudent. That's just my one cent.
Image 1 of 2
Your Daily Blend of Entertainment News
Your Daily Blend of Entertainment News
Thank you for signing up to CinemaBlend. You will receive a verification email shortly.
There was a problem. Please refresh the page and try again.