Monsters, Inc. Comes Out Of The Closet And Onto Blu-Ray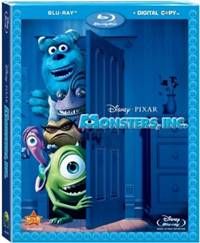 The guys and gals at Pixar must realize how busy you are these days, because now they're planning your double-features for you. Not content to dangle the carrot of Up on DVD, the maniacal geniuses at Pixar are releasing Monsters, Inc. on Blu-ray the same day, November 10th.
Taking a page from 1989's Howie Mandel opus Little Monsters, Pixar's Monsters, Inc. steps into the secretive world of the monsters who haunt children's closets. John Goodman and Billy Crystal play a pair of loveable monsters who become reluctant guardians for a wayward two-year-old named Boo. It also somehow manages to be sort of about the energy crisis.
The new Blu-ray lists at $39.99 and comes with a closet-full of special features, including all the ones from the original DVD release.
New Blu-ray Features
Filmmaker's Round Table
Monsters, Inc. Ride and Go Seek: Building Monstropolis in Tokyo
Roz's 100 Door Challenge (Interactive Game)
BD-Live Features
Disney File Digital Copy for iTunes and Windows Media Player
Original DVD Features
Academy Award-nominated short film "Mike's New Car" (With Audio Commentary By Directors)
Academy Award-winning short film "For the Birds" (With Audio Commentary By Director)
Banished Concepts
Storyboard To Film Comparison
Monster file
Animation Gag Reel 1: Sulley/Boo/Waternoose
Animation Gag Reel 2: Giraffe Gag
Animation Gag Reel 3: Sulley Bowling Boo
Your Daily Blend of Entertainment News
Thank you for signing up to CinemaBlend. You will receive a verification email shortly.
There was a problem. Please refresh the page and try again.