Return To The O.K. Corral In High-Def As Tombstone Comes To Blu-Ray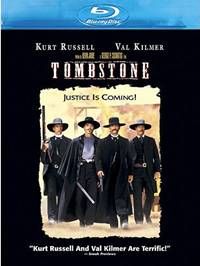 With Hollywood's Wheel o' Remakes spinning damn near continuously these days, it's just a matter of time till some coked-up, be-suited MBA says, "Hey, we could remake that western movie! You know, the one named after the pizzas." Thankfully, you can take comfort that the original, accept-no-substitutes Tombstone will be available in snazzy high-def Blu-ray April 27th.
Tombstone stars Kurt Russell as legendary U.S. Marshall Wyatt Earp and Val Kilmer as Doc Holiday in a violent, eminently quotable retelling of the showdown at the O.K. Corral. Also along for the ride are Bill Paxton, Jason Priestly, Dana Delaney, Sam Elliott, and Sam Elliott's mustache (which not only receives separate billing, but also has its own agent). Tombstone should under no circumstances be mistaken for the 87-hour Kevin Costner vehicle Wyatt Earp.
For a suggested retail price of $29.99, Tombstone fans will get several special features alongside the movie itself: a three-part "Making of Tombstone" featurette, the director's original storyboards, and an array of trailers and TV spots. Pick one up else Marshall Earp turns your head into a canoe.
Your Daily Blend of Entertainment News
Thank you for signing up to CinemaBlend. You will receive a verification email shortly.
There was a problem. Please refresh the page and try again.