The 10 Most Anticipated Games Of 2016, According To Kayla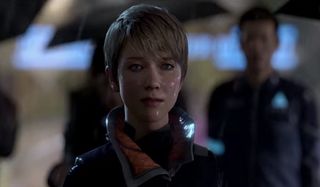 The year of 2015 was met with some head-turning announcements like Horizon Zero Dawn, Kingdom Hearts III and the confirmation of a Season 2 of Life Is Strange. And with all of these announcements in 2015, we are met with promises of an incredible year of gaming for 2016. Not only have we cherished our roots with enticing reboots like Ratchet and Clank, but we've advanced toward the future of gaming with exceptional VR gameplay in games like Adrift. As we wave goodbye to 2015, we brace ourselves for the best year in gaming yet. These are my top 10 picks for the games I am looking forward to most in 2016.
10. No Man's Sky
This game has topped many anticipated for 2016 lists, I'm sure. It's a truly ambitious title with a huge universe to explore. There's so much you can do, like flying through space to travel to different worlds, fighting off enemy alien beings, and exploring to your heart's content. Right now, it's only exclusive to PC and PS4, but it's being pushed for VRVR and Xbox One because, well, everyone wants to get a taste. If I had to choose any one game on my list that would do well as a VR game, it would be this one. I'm not even that big of a fan of VR. You get me into a VR headset rolling through space in Adrift and I'll pass out. But if it's something like this where the world is immersive and alien, (and space travel isn't spinning endless into an abyss) then sign me up. Hello Games is shooting for a June 2016 release date, but there's always delays with a game as massive as this.
9. The Last Guardian
Did you catch the video of the interactive Trico at Tokyo Game Show this past Fall? The Last Guardian is something I just found out about while strolling around E3. It was part of the three-part demo show including Uncharted 4 and Horizon Zero Dawn. Trico helps a young boy maneuver his way through environments and avoiding enemies. One thing I noticed in the demo is that Trico has elements of many different animals, the playfulness of a dog and the cunningness of a cat. For me, I enjoy character development and narratives, and the relationship that was so blatantly present between the young boy and Trico really affected me. It's games like these I have to get my hands on. There is no official release date yet, just a vague 2016 window.
8. Battleborn
When I played this game at E3 2015, I was sold. Battleborn reminds me a lot of a game I have been waiting for since my days in college hunkered over my laptop playing Team Fortress 2 with my friends. It has an outstanding opportunity for multiplayer combat with an array of characters to choose from, all with their own weapons and abilities; as of right now, the game is supposed to release with 25 different characters. When Gearbox Software announced the title, it was the first thing they had done since Borderlands and I was a little worried it was just going to be another Borderlands game. But it's not. I can't wait to experience the galactic story of Battleborn and try out every single character in an online battle.
7. Unravel
Another title I happened to spot at E3, Unravel is a mystical and magical-looking game that reminds me of something like Toy Story. You take control of Yarny and use his yarn to solve physics-based puzzles throughout the vibrant world, eventually dragging the yarn (tangle-free) throughout the whole game. I'm not much of a puzzle platformer, but something about this game drew me to it. The in-game environment is absolutely stunning and it makes me want to give the puzzles a whirl. I'll probably hate myself for it in the end, but it could turn out to be a puzzle platformer I don't mind as much. It has a release date of February 9.
6. Blade & Soul
I might be a little biased because I worked on this game during its development for the West, but it really is a solid MMORPG. It's like the Eastern version of Guild Wars with a selection of different classes and races to choose from. Your task is to stop the evil Jinsoyun from destroying the world with Dark Chi and unlocking a Hell hole with the magical Twilight's Edge. The art inside the game is beautiful and it does such a good job at immersing you inside the story. Even if you find you hate the story of Blade & Soul and want nothing to do with finishing the game, it's still entertaining to run around the worlds, completing sidequests and exploring. Blade & Soul is slated for release on PC on January 19.
5. Uncharted 4: A Thief's End
When Uncharted first came out, it was the answer to an absence of an Indiana Jones hero. Sure, we had Lara Croft, but at the time in the space before the next generation Tomb Raider games, Tomb Raider had become kind of lame. Adventure had taken a seat on the bench and we had been fixated on first-person shooters. But when Uncharted was released, the endless possibilities of a narrative-heavy third-person adventure game arose. Not only are the stories in Uncharted so beautifully woven, but the action is just as intense as any Indiana Jones blockbuster. Plus, there's tons of Indiana Jones references. How could I not be excited for the fourth installment? The game was delayed until April, but that's okay. I don't want a rushed job for the final part of the Uncharted series.
4. Ratchet and Clank
I grew up playing games like Crash Bandicoot, Spyro The Dragon and Jak and Daxter, but believe it or not, I had never touched Ratchet and Clank. I picked this gem up at E3 and was immediately thrown back into the golden era of gaming in my childhood. For awhile now, I've been waiting for similar platformers to Crash Bandicoot to catch on again, and it seems like they are. Lucky's Tale as well as the Kickstarter-funded Yooka-Laylee are releasing soon and my childhood heart is ecstatic. So after playing the Ratchet and Clank demo, I thought to myself, "Why have I never played this before?" The game is a reimagining of the very first Ratchet and Clank game being developed by none-other-than Insomniac Games, the guys who first brought Spyro The Dragon into the world. And from what I've played, I cannot wait to spend hours pounding through it. The game has seen some delays and was pushed back to April 29, 2016, but it's worth waiting for.
3. Life Is Strange Season 2
Season two of Life Is Strange was confirmed this past Fall and adding it to this list is more of a hope than anything. I hope that it will be released this year. Release date estimates are all over the place and I dunno how long I can wait to see not only what the story will be in the second season, but who will be starring in the second season. Season one left me with a pit in my stomach, probably because I chose the most emotional ending in the game. I don't know how I'll feel about new characters because I became so attached to Max and Chloe, but hopefully Dontnod will create a story with characters just as compelling.
2. ABZÛ
ABZÛ first debuted at E3 2014 during the Sony conference with a stunning teaser trailer showcasing a mysterious underwater world. Former art director of Journey, Matt Nava, banded together with the Journey composer, Austin Wintory, to create Giant Squid Studios. Everyone got a glimpse of the gameplay at E3 2015 and we were taken aback. Some had even assumed ABZÛ was going to be 2D, but the demo showcased so much more. I feel like ABZÛ isn't just going to be another Journey, it's going to be so much more. Giant Squid has a vision for an immersive, underwater adventure in ABZÛ with mystery, killer music and sound design and advanced character development in ways I've never thought of. As far as I've heard, they are shooting for a 2016 release with no official date yet.
1. Detroit
Detroit doesn't just top my list because I'm from Detroit. It's not a game for Red Wings or Lions fans. It's something so much more. In Detroit, you fast-forward to the future in a time when Detroit is a world of not only human beings, but androids as well. Androids are utilized to do the jobs we don't like to do, but the android, Kara, built with an artificial consciousness, believes there's more to her life than doing chores and obeying rules. She wants to be free. This is yet another fantastic-looking title from David Cage, who brought us Beyond: Two Souls and Heavy Rain. Beyond: Two Souls is maybe one of my most favorite recent games, so you can imagine I am absolutely ecstatic to play through yet another fascinating narrative. There is no release date yet, but I am hoping for a late 2016 release. As we go into 2016, I am going to not only be looking for nostalgic references to games I grew up playing, but also looking for elements that make games stand out from others. That means games that have stories that are engrossing and concepts that have never before been done. And with seeing these aspects in announced games, 2016 is going to be a fantastic year for gaming.