New Rocket League Map Takes You Into The Depths Of A Cyberpunk Tokyo, See The Video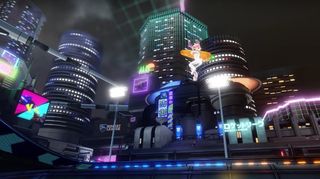 Rocket League has seen a whirlwind of success with record-breaking sales numbers, and the more they release engaging content, the more successful they will become. And their newest map addition is definitely something new and engaging.
The newest map to be added to Rocket League will take players racing against the clock in the depths of a cyberpunk Tokyo.
According to GameSpot, the update coming to Rocket League, called Neo Tokyo, not only includes the Tokyo map, but also:
A bunch of "rare" and "very rare" cosmetic items that are awarded for post-game drops;
A previously announced trade-in system for unwanted or duplicate cosmetic items;
"Painted" items that are variations on existing cosmetic items;
"Certified" items that track in-game stats and increase in prestige as those stats increase;
New chat options;
New post-game celebrations;
An experimental arena called "Pillars" that divides the normal Rocket League field into three lanes;
Eight new trophies and achievements;
An in-game showroom that allows players to view and buy previously released premium DLC.
The things on this list that stand out the most to me are the rare cosmetic items, the experimental arena and the painted and certified items. The experimental arena I think is by far the most intriguing part of this update because it says the new arena, called Pillars, will split the normal Rocket League field into three lanes. In my mind, I can't picture how that will work so it will be interesting to see the new field in action. And if this is experimental, does that mean if the fans enjoy it, it will be a regular arena option in the future of Rocket League?
Also, premium DLC including two new cyberpunk-themed cars will also be launching alongside the update, called Esper and Masamune, and they will be $1.99 each.
You'll be able to get both the map and the update come June 20, but will have to wait for the new cars until July 18, but if you happen to have the Collector's Edition, you'll be able to snag the cars on July 5. Rocket League has always been a favorite game of mine, because very much like the Minecraft effect, a number of different people are able to enjoy Rocket League and that really draws in the success for games like these. When games limit themselves to a certain genre like horror or FPS or real-time strategy, mostly people from those genres will enjoy the game. And there's nothing wrong with limiting yourself to a genre---sometimes it's what make a game unique. But both Minecraft and Rocket League have been faced with an overwhelming amount of success and both games seem to appeal to a greater audience, one of many genres, which in turn draws in more players. These kinds of games, in my eyes, are phenomenons.
If you'd like more information on Rocket League, you can visit the official website.
Your Daily Blend of Entertainment News