You Will Finally Be Able To Use Animal Crossing Amiibos In New Leaf, Here's How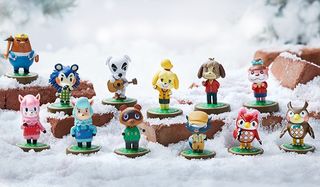 Animal Crossing: New Leaf has been available on the Nintendo 3DS for a couple of years now, but it looks like the game will actually be getting some new content in the coming months thanks to those adorable little figurines folks can't seem to get enough of, Amiibo.
Amiibo support is already a part of two Animal Crossing games, including Happy Home Designer and the downloadable Amiibo Festival. In those games, you can use Amiibo figures or cards themed after the Animal Crossing universe to introduce new characters, items and gameplay into your adventure. Now it looks like the most recent core game in the series, New Leaf, will also be getting Amiibo support via a free update.
Nintendo made the announcement official this morning, though details weren't exactly abundant. We know that the Amiibo update is dropping into New Leaf sometime this fall, and that the figures and cards will be used to summon those characters into your game. Some will apparently have the potential to become new neighbors, and we imagine they'll be handing out special in-game items like furniture and patterns, too.
According to Nintendo, loads of Animal Crossing Amiibo will be usable once the New Leaf update drops, and it seems like there may even be some cameos from outside characters. The squid kids from Splatoon, for instance, make an appearance, though they aren't included in the list of supported figures. If I may put in a request: Shovel Knight should be in every game imaginable, so it would be swell if he could visit my town in Animal Crossing, too.
As for those supported characters, here's the list:
-All Animal Crossing Cards from Series 1-4
-Blathers
-Celeste
-Cyrus
-Digby
-Isabelle (Summer)
-Isabelle (Winter)
-Kapp'n
-Kicks
-K.K.
-Lottie
-Mabel
-Reese
-Resetti
-Rover
-Timmy and Tommy
-Tom Nook
I could be wrong, but I'm pretty sure that list includes any and all Animal Crossing Amiibo on the market. Either way, if people seem to be enjoying this new functionality, I wouldn't put it past Nintendo to plug in even more support somewhere further down the line.
Now we're really curious as to what the full extent of Amiibo support in Animal Crossing: New Leaf will be. Hopefully there's a deeper reason to bring in these extra characters than just having them say hi and maybe drop off an item. It could be cool if players are able to spawn them into the multiplayer games when you're not playing with a full party. Maybe an in-town hide and seek game with, say, up to five Amiibo friends taking part? Just some ideas, Nintendo, in case you're reading.
Either way, is this new Amiibo support enough to bring you long-time New Leaf players back to the game? If so, what would you like to be able to do with your Amiibo pals, once you've summoned them? Let us know in the comments below.
Your Daily Blend of Entertainment News
Staff Writer for CinemaBlend.