The One Place You Can't Play Pokemon Go in Thailand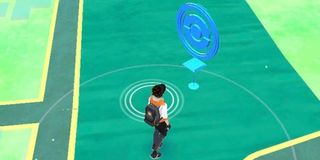 (Image credit: Election Commissioner Somchai Srisutthiyakorn)
There are a lot of places where you can play Pokemon Go, but one of those places is not the polling booths in Thailand. The country has welcomed the game with open arms for its release on August 6th in Thailand, but they're already saying "No!" to catching Pokemon while inside the polling booth.
Go Nintendo picked up the story from the Nation Multimedia news outlet, where Thailand's election commissioner Somchai Srisutthiyakorn explained...
The election commissioner is actually said to be a fan of the game, but simply wants people to abide by the rules and not venture inside the election booths for any other purpose that does not include voting.
So what happens if you're inside the voting booth and you get a notification that a Pokemon is nearby? Are you then allowed to play Pokemon Go briefly to catch the Pokemon while you vote?
Well, deputy secretary-general of the Election Commission, Thanit Sriprathet, explained that it will be on a case by case basis...
That makes sense that they would simply want to enforce the rules, even for Pokemon Go. However, Sriprathet does mention that using cell phones in the booths while voting is not immediately prohibited, but you cannot take photos or selfies or create any sort of visual media that can be transmitted that indicates that you are "crossing your ballot".
Pokemon Go's launch in Thailand was accompanied by launches in multiple countries in south east Asia, including but not limited to Brunei, Cambodia, Indonesia, Taiwan and Fiji. Still, there's no launch in China -- one of the largest gaming capitals of the world -- due to the geolocation concerns, and the game also won't be launching Iran due to security concerns, according to the BBC.
Niantic Labs is really stepping up the availability of the game, even while some locations and institutions attempt to block the game from being played in certain areas. In one case veterans at a veteran's park were angered that gamers were playing Pokemon Go at the park because they felt it was disrespectful. In another case, a museum director at the Holocaust Museum did not want people playing the game while in the museum. So if you do happen to be playing Pokemon Go in Thailand, just make sure you're not playing it while in the polling booth.
Staff Writer at CinemaBlend.
Your Daily Blend of Entertainment News
Thank you for signing up to CinemaBlend. You will receive a verification email shortly.
There was a problem. Please refresh the page and try again.