How Nintendo May Make Their Them Park Rides Unique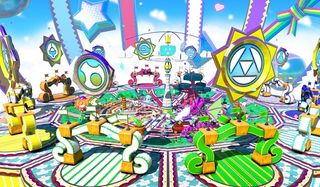 Last year, it was announced that Nintendo was going to have some rides added to Universal theme parks. Today, we're learning that those rides are progressing quite nicely, and will likely take advantage of modern technology to boot.
Following the success of Pokemon Go, Nintendo is likely very aware of the fact that a ridiculous number of people have smartphones. So it makes sense that they'd want to incorporate that technology into their upcoming theme park experiences, helping add that trademark Nintendo quirkiness to rides featuring characters like Link, Mario and Pikachu.
In a recent interview with A List Daily, Nintendo of America President Reggie Fils-Aime talked all things Nintendo NX, but then spared a moment to discuss those Nintendo rides planned for Universal theme parks.
Last year, we didn't really know what to expect out of these rides other than the fact that they would be based on popular Nintendo properties. Following this latest interview with Fils-Aime, we now know that smartphones will likely be part of the equation.
Way to pass the buck, Mr. President! Then again, considering the fact that the NX is expected out next year and we still have zero hard details on the machine other than the fact that it exists, it's no surprise that Nintendo is remaining tight-lipped on these rides. It's probably also important to keep from over-promising. You don't want to say there will be AR support on a Mario Kart ride or a Metroid shooting game and then not deliver.
This is, of course, only Nintendo's latest step toward having a stronger focus on the mobile scene. Though the 3DS is still doing well and the NX is rumored to be a home and portable hybrid, the developer/publisher looks to be making a stronger push onto smartphones in the coming years. Pokemon Go was just the tip of the iceberg and, though the user base has dropped off due to a lack of substantial updates from Niantic, it's impossible to deny that the game is a runaway success.
Honestly, this is all just Nintendo being Nintendo. They're not afraid to try different things and see how they work out. Hopefully something neat will come of these potentially smartphone-infused rides. If nothing else, we don't doubt that they'll learn something from the experience and then plug it into whatever comes next.
Staff Writer for CinemaBlend.
Your Daily Blend of Entertainment News
Thank you for signing up to CinemaBlend. You will receive a verification email shortly.
There was a problem. Please refresh the page and try again.