The Last Of Us: Part 2 Was Actually Announced Months Ago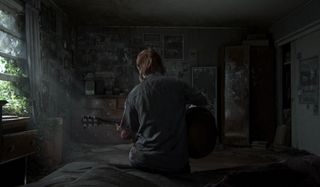 The internet is able to pull a tease or rumor for a new game out of just about anything these days, but, as it turns out, some things can still slip through the cracks. In a way, Naughty Dog actually revealed The Last of Us: Part II a couple of months ago and we all missed it.
The folks over at Gamespot have picked up on a pretty nifty tease for The Last of Us: Part II that was hidden (or in plain sight, really) within a promotional poster. Pretty much all of us saw the poster, but none of us realized what it was pointing to.
In late September, Naughty Dog held what they were calling "Outbreak Day," a celebration of all things related to The Last of Us. Within the game world, Sept. 26 was the day that the outbreak basically took over, leading to a whole bunch of people getting turned into zombified monstrosities. Things went downhill from there. As part of the celebration, many in-game and physical items were being discounted on the PlayStation Store, including this rather unassuming piece of artwork. It's a poster featuring a design by Kevin Tong and, having no reason to believe otherwise, we all just assumed it was a nice homage to Ellie, the knife-wielding survivor who served as your constant companion, and frequent savior, in The Last of Us.
In the poster, we see Ellie's arm, holding her trusty knife. Coming out of the bite that should have infected her, we see a couple of vines emerging. Fluttering about are a trio of moths. The poster says, quite simply, The Last of Us. As it turns out, the poster should have added a Part II, because this image directly points to the new game.
Last weekend, The Last of Us: Part II was revealed in the form of a rather haunting trailer that's already garnering some heartbreaking fan theories concerning the game. We get a good look at Ellie's arm in the trailer as she begins tuning a guitar. And what's that we see on her arm? A tattoo. But it's not just any tattoo. It's a tattoo that looks exactly like the image from the Outbreak Day poster, complete with two vines and a moth.
Pretty nifty, right? So if you happen to have one of those posters and you're having a hard time waiting for the new Last of Us game, just glance at it on the wall from time to time and remind yourself how it was a cool hidden promotion for the impending sequel.
Your Daily Blend of Entertainment News
Staff Writer for CinemaBlend.