How The Nintendo Switch Is Selling In The UK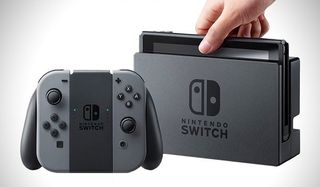 The numbers are in and, by all accounts, the Nintendo Switch is off to a solid start across the globe. We already knew that the U.S. and Japanese markets had snatched up Switch consoles as soon as they hit the shelf, and now it looks like the same thing happened in Europe.
Over on Nintendo Everything, they are reporting that the initial stock of Switch consoles was sold through in the UK. All told, Nintendo looks to have moved 80,000 units during the Switch's opening weekend, which the original report points out was double that of the Wii U, Nintendo's previous and underperforming console.
While we're certainly happy to see these figures and 80,000 is definitely a great start, there are a couple of additional factors that should be considered. For starters, Nintendo is notorious for providing far less hardware than there is demand, something they did a better job of correcting with the Switch. In other words, part of the reason it outperformed its predecessor was because there were more units available on day one.
Also, it's pretty common for a system, even one that eventually bombs like the Wii U, to sell out of its stock at launch. So while it's great news that the Switch flew off the shelves, the figures that really matter are those that show how it is still doing six months to a year down the line. That's typically driven by game launches, and with a pretty weak first year currently announced, there's no telling if the hunger for a Switch will remain for folks who couldn't get one at launch.
What's not super uplifting in the original report is that UK retailers are reporting they've had no word from Nintendo as to when they can expect additional Switch consoles on their shelves. You can't very well sell a system if you don't have a system to sell. Hopefully Nintendo is just trying to avoid making promises they can't guarantee, and will rush Switch consoles out the door and all over the world as soon as they can get them manufactured.
If this is sounding a bit pessimistic, it's because we're just trying to be realistic here. We're super excited for Nintendo and absolutely want to see the Switch succeed where the Wii U failed, but throwing out launch numbers as if they are unexpected and mind-blowingly high isn't being super accurate. They're a good start, and one we hope to see Nintendo build on with more game launches in the coming months. They've got more consoles out the door than with the Wii U at launch and have done a better job of building buzz for the console than with their previous effort, so those are good signs. If Nintendo can keep that momentum building, then we'll have something to cheer about.
Your Daily Blend of Entertainment News
Staff Writer for CinemaBlend.