Five Free Mega Stones Are Currently Available In Pokemon Sun And Moon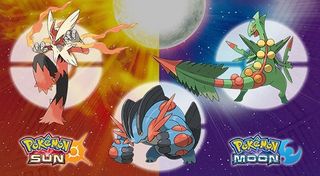 (Image credit: Nintendo)
Nintendo is handing out free Mega Stones in Pokemon Sun and Pokemon Moon for the Nintendo 3DS. These particular stones aren't available in the actual game and you can't grind for them, but you can get them by putting in a specific code.
Over on the official Pokemon website there are details on the five Mega Stones, which allow players to evolve Pokemon into Mega Evolutions, including Sceptile, Blaziken, Swampert, Camerupt and Banette.
As mentioned in the top paragraph, you won't be able to grind out these five stones from the base game in Pokemon Sun or Pokemon Moon, but you can get a hold of them for free by following a few simple steps. First of all, use the special code MATSUBUSA. This will enable the gifts to be made available in the game.
The actual steps include booting up Pokemon Sun or Pokemon Moon, going to the Mystery Gift option from the main menu screen, clicking on "Receive Gift" and then select the "Get With Code" option and choose to connect to the internet.
Enter the code MATSUBUSA and then your character profile should receive the free Mega Stones. In order to retrieve them and add them to your inventory, you'll need to pick them up by going to the delivery person at local Pokemon Center and picking up the Mega Stones.
Once the stones are in your inventory it's advised to save your game so you don't lose them haphazardly.
You'll then be able to utilize the Mega Evolutions and have some grand fantastic beasts at your disposal during your battles.
It's mentioned on the site that while Mega Stones can't be acquired in Pokemon Sun and Moon through the standard methods, it is possible to port over Mega Pokemon from previous games if you've already acquired them during your playthrough.
Pokemon Sun and Pokemon Moon ended up being some of the best-selling games in the series, adding renewed vigor in the series thanks in part due to some new features that Game Freak included in the title, along with the fact that Pokemon Go had become a global phenomenon, increasing the overall brand value and mindshare of the game.
Nintendo is also planning to have Game Freak release a full fledged Pokemon RPG experience scheduled to release at some point in 2018 or beyond for the Nintendo Switch, which could be a huge boon for the system as it would attract a whole bunch of mobile gamers to the Switch. Right now Nintendo is battling with supply constraints for the system, but once those ease up in July and August, it should be interesting to see how well the console is adopted amongst gamers.
In the meantime, Nintendo 3DS owners can grab the five free Mega Stones while they're still available. There's no time frame on how long you'll have until these free stones go away, so you might want to work fast and get a hold of them before it's too late.
Your Daily Blend of Entertainment News
Staff Writer at CinemaBlend.