Lawbreakers Physical Discs Are Almost Gone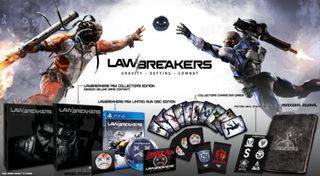 (Image credit: Boss Key Productions)
Boss Key Productions wanted to get gamers interested and motivated in its upcoming first-person, PvP shooter that's being published by Nexon. One way to help entice gamers is promising a physical collector's edition for Lawbreakers, a strategy that appears to have worked. The Collector's Edition appears to be sold out and physical copies of the PS4 version of the game are down to the single digits.
Back in July, Gamespot reported that Boss Key had announced a physical edition of Lawbreakers will be available as a collector's release starting in August. Boss Key teamed up with Limited Run, an outfit that specialized in producing and distributing physical copies of games typically released digitally.
The collector's edition came packed with Abaddon's journal, two character card packs for each faction, a sticker set, a Deadzo sticker, and a postcard. Each box will be available in limited quantities for both PC and PlayStation 4, and so Boss Key and Limited Run issued the boxes with individual numbers. Spiffy.
Whether you get the game on PC or PS4, Lawbreakers' collector's edition will be $70, but only the PS4 version will contain a physical copy of the game. The PC version comes with a Steam code card. It's probably highly disappointing to find out you have to pay $70 and you still don't get a disc. According to the article, the PC version was produced to meet demand, where-as the PS4 collector's edition was to be limited to 2,500 units. It's unclear how many of the PC edition were actually sold.
There were going to be limited quantities of the standard version of Lawbreakers made available via physical distribution on the PlayStation 4 as well. Limited Run offered players the standard edition, but only 5,000 units were being produced So in total, the PS4's physical copies will only come up to 7,500 units. So by having a "limited run" it really will be a limited run. As of this writing, the website for Limited Run says there are only four copies of the PS4 disc available.
The physical copies and collector's editions were made available on August 4th. The standard edition of the game was released August 8th.
Some gamers have drawn comparisons between Boss Key's game and Blizzard's hero-shooter, Overwatch. Both games rely on characters with special abilities who can be utilized tactically during a match thanks to their unique characteristics and abilities.
The big difference between both games is that Lawbreakers allows all the characters to make use of the verticality elements in the game and encourages players to experiment with the unconventional anti-gravity gameplay elements. Overwatch is more focused on teamwork, where-as Lawbreakers has more of an old-school Quake or Unreal Tournament vibe to its gameplay, but situated more around vertical environments instead of horizontal arenas.
Staff Writer at CinemaBlend.
Your Daily Blend of Entertainment News
Thank you for signing up to CinemaBlend. You will receive a verification email shortly.
There was a problem. Please refresh the page and try again.