Three New Shovel Knight Amiibo Are On The Way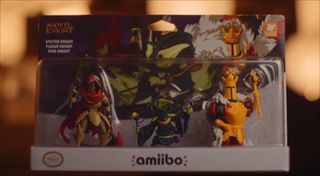 Yacht Club Games and Nintendo teamed up with Game Grumps to announce three new Amiibo figurines for Shovel Knight. The three character statues were introduced through a hilarious new minute long trailer that attempts to eroticize the 8-bit heroes new Amiibo figurines.
The trailer was posted up over on the official Game Grumps YouTube channel, which reveals that gamers will be able to pick up King Knight, Plague Knight and Specter Knight.
Each of the three figures comes with their own abilities when you scan them into the game via the NFC functions on Nintendo's systems, such as the Nintendo 3DS, the Wii U, and most recently the Nintendo Switch.
Each of the Amiibo will unlock certain features in the upcoming Shovel Knight: King of Cards game for the Nintendo Switch, which is due for release in 2018. As mentioned in the trailer, the figurines will unlock fairy companions that will help you out during the levels, along with accessing exclusive new armor sets associated with each of the figurines.
Nintendo's Amiibos have been strangely popular, with a lot of people collecting them due to how rare some of them are and how some of them seem to stay sold out. Nintendo hit a jackpot with the Amiibo back when Super Smash Bros., on the Wii U launched and each of the Amiibo came with some special abilities and traits that could be exploited during a fight.
Some people see Amiibo as cheating given the advantages you can leverage when you put them into play, but for a game like Shovel Knight there isn't a lot of cheating going on given that it's a single-player affair where you play as King Knight and you attempt to conquer four all new worlds while also partaking in a brand new card combat game that Yacht Club included in the upcoming Shovel Knight: King of Cards.
The trailer spends so much time having fun with the idea that the Amiibo are part of some erotic product being sold that it doesn't exactly explain if you'll be able to use these Amiibo retroactively for other games on the Switch or the even on the Wii U?
Given that the game is still a year off from release and not due to drop on store shelves until early 2018, there's plenty of time for Yacht Club to clarify exactly how these new Amiibo will work and exactly what sort of benefits they will bring to various games.
For now, we do know that you will get some benefits when using these three in the upcoming Shovel Knight: King of Cards. Nintendo actually has a bevy of indie games due for release throughout the rest of 2017 and 2018, so Switch owners should be plenty busy while they wait for the new set of Amiibo to arrive.
Staff Writer at CinemaBlend.