The Surprising Character That Almost Became The Super Nintendo's Mascot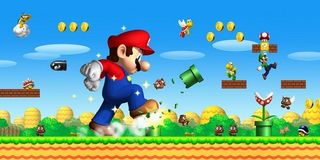 Every games console needs a mascot and, while Mario ruled during the era of the Nintendo Entertainment System, it turns out Nintendo originally had their eyes set on a different face for the company during the SNES era: F-Zero's Captain Falcon.
As you're likely well aware of at this point, Nintendo recently launched the SNES Classic Edition, a pint-sized version of the beloved console boasting a library of a couple dozen classic games. Included in that lineup are everything from Super Mario World and Super Metroid to Earthbound, Donkey Kong Country and the futuristic racing game, F-Zero.
To celebrate the launch of the SNES Classic, Nintendo has been conducting several interviews with team members who have been around since the console's inception. During one such interview with the guys behind F-Zero, it was revealed that the game's mascot character, Captain Falcon, was actually supposed to be a major Nintendo mascot for the entire console generation. That bombshell was dropped by designer Takaya Imamura during a rather lengthy, but super informative and entertaining interview.
The thing about Captain Falcon is that he doesn't really play a big role in the game since, you know, everybody is in hovering cars rather than running around on the screen. Because of that, many folks were not really exposed to the character until the original Smash Bros. launched for the Nintendo 64. So it's kind of strange that, until then, the character could have been decently obscure. Now, though, any fan of Nintendo likely knows the character pretty well, primarily because of his appearance in the Smash games.
If you've got some time, we'd recommend giving that entire interview a gander, as it serves as a rarely opened window into the inception of the SNES console, as well as one of its most iconic games, F-Zero. The talk about how the character of Captain Falcon and the world of the game were actually influenced by Batman, as the team loved the Tim Burton-directed film that had launched the year they began working on the game.
From a design standpoint, it's interesting to hear about the limitations of the SNES era, which led to several design decisions for the game. They already knew they wanted to set the game in the future, but it turns out that setting was more perfect than they realized. They knew that rotating tires would be extremely hard on the SNES, so hovering cars made more sense. They also knew they couldn't render 3D buildings yet, so having the courses set above the city was another nice workaround. It's really interesting stuff.
Your Daily Blend of Entertainment News
Staff Writer for CinemaBlend.