When DOOM Will Hit The Nintendo Switch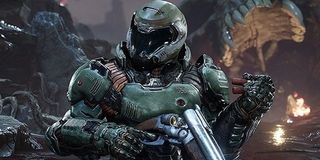 Probably the biggest surprise from the September Nintendo Direct was the fact that DOOM is coming to the Switch. Now, thanks to the latest announcement from id Software, we know exactly when Nintendo's latest console will be heading to hell. Pack your bags for a Nov. 6 departure.
When Bethesda announced Skyrim would be heading to the Switch, we never stopped to think about what other games from the publisher might also make the jump to the Nintendo platform. It turns out that both DOOM and Wolfenstein 2: The New Colossus are on that roster, with the former actually beating Skyrim to the system.
This news comes to us from a recent id Software developer diary (via Eurogamer) in which members of the team talk about bringing the impressive FPS to Nintendo's home console/handheld hybrid. Sure, the game won't be quite as crisp as the version on the PlayStation 4, Xbox One or PC, but all early hands-on accounts point to it playing exactly like the original version. Not a bad price to pay to be able to take DOOM wherever you go.
Obviously, this is fantastic news for Nintendo for a number of reasons. For starters, it's a mature game on a platform that many tend to associate with exclusively family friendly fare. Secondly, it's a big game coming from a big third party developer and publisher, showing that the Switch is succeeding where the Wii U failed in terms of attracting third party support. If DOOM actually turns out to be solid on the Switch and it sells well, that could prove to be great motivation for even more developers to get projects rolling on the console.
What's crazy is that DOOM was only announced for Switch a month ago and we'll be playing it in just a couple of weeks on Nov. 7. Then, 10 days later, we'll have Skyrim to enjoy on Nov. 17. We imagine both of those games will find their way to many holiday shopping lists.
And again, this is the full version of DOOM, not the drastically slimmed down version some folks feared it would be. The entire campaign is included with all additional difficulty modes, including the ultra-nightmare mode. Also included is the arcade mode, which adds additional time and score chase features to the game.
Also included is the multiplayer modes such as capture the flag and team death match, as well as all 18 maps. Finally, all of the DLC that dropped for DOOM post-launch will also be included.
Staff Writer for CinemaBlend.