A New Pokemon Is Available At Build-a-Bear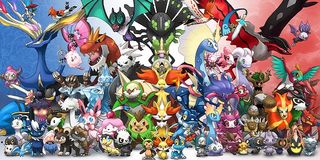 Yet another Pokemon fan favorite has been added to the Build-a-Bear roster, giving folks in desperate need of cuddling a chance to curl up with a fiery plush companion. Get ready to chuck a naptime pokeball at Vulpix.
Last year, Build-a-Bear introduced its first Pokemon character to its roster of do-it-yourself stuffed animals, Charmander. Since then, Meowth, Pikachu, Squirtle and Eevee have joined the team, each with their own specially designed outfits.
The story is the same with Vulpix, which is now available from the plushie retailer. The little fire fox is apparently super soft and, as Gamespot points out, boasts the character's trademark six tails. The difference here is that, instead of the tales being all poofy, the Build-a-Bear design is thinner and fanned out. That's probably to allow for maximum snuggling or something to that effect.
Vulpix can be paired with a couple of outfits, including a cape boasting a flame design and a jacket with a bunch of pokeballs on it. There are a bunch of purchase options, too. For starters, if you just want to buy the Vulpix plush, this latest stuffed Pokemon can be yours for $28. There's also an exclusive bundle available online that includes Vulpix, both outfits, a sound box and an exclusive Build-a-Bear Vulpix trading card for the game. All of that will set you back $60. The voice box includes six recordings for your listening pleasure and, unless I'm mistaken, can be placed inside the stuffed animal and squeezed for activation.
If you're wanting to get the full Vulpix experience, you're going to have to buy that online bundle. It turns out that's the only place you can grab the cap and trading card.
As the original story points out, Pokemon isn't the only set of third-party critters to be added to the Build-a-Bear line. Other popular lines include My Little Pony, Minions and the Teenage Mutant Ninja Turtles. We're hopeful that additional video game lines will eventually be made available such as Resident Evil or, say, DOOM. In all seriousness, where my chibi Hunter, Warlock and Titan from Destiny at?
If nothing else, nobody can argue that Pokemon is showing any signs of slowing down. Sun and Moon were huge hits last year and the updated versions of those games will likely be another huge success this holiday season. Pokemon Go is still a big draw, too, and Pokken Tournament recently had a solid launch on the Nintendo Switch. That same platform looks to be the home of the next proper game in the core series, too. So, yeah, keep catching them all!
Staff Writer for CinemaBlend.
Your Daily Blend of Entertainment News
Thank you for signing up to CinemaBlend. You will receive a verification email shortly.
There was a problem. Please refresh the page and try again.