Mario Makes A Lovely Bride Thanks To Super Mario Odyssey's Peach Amiibo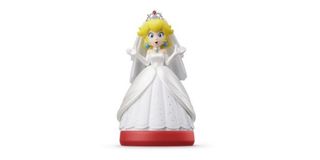 Nintendo is giving gamers a reason to be excited about the Amiibo for Super Mario Odyssey outside of simply collecting them. In fact, one of the reasons you might be interested in getting the Wedding Peach Amiibo for the game is to turn Mario into a bride!
The news was captured by an image shared on Nintendo Daily News via Twitter. The image shows a box of Wedding + Marriage Peach, the new Amiibo that can be used with Super Mario Odyssey. On the back of the box it explains that you can "Adventure in style!" and run around the game world wearing a wedding dress when playing as Mario. The pudgy plumber is decked out in a full white gown with a veil, tiara, white matching gloves, and a little bit of cleavage up top.
The Amiibo isn't just about what you get to wear while running around in the game world, it's also a useful help-me-out when you find yourself in a bit of a pickle and you're losing life. You can use the Amiibo to help you out with a heart-finder that finds health to replenish Mario's HP. So the Amiibo serves a two-fold purpose.
A lot of gamers were kind of confused, some were excited, and a few asked if it were possible to unlock the outfits from within game.
So far, it sounds like you'll only be able to get your hands on these specific wedding outfits within Super Mario Odyssey by acquiring the Amiibo.
This is one of the first games where Nintendo really encourages gamers to customize Mario. Even beyond the wedding dress you can deck Mario out in all sorts of other gear as well, including putting him in a safari outfit for the desert stages, or you can give Mario some warm clothes when it's time to trek through the snowy ice caps of the frozen hills. If Mario isn't dressed properly he'll also start visibly shaking and freezing. I do wonder if he loses health bars from just standing around in the cold without proper clothing. In The Legend of Zelda: Breath of the Wild if Link wasn't dressed appropriately he would also lose life over time. This would force players to have to find the appropriate attire for Link in order to trek through the colder areas.
One of the other outfits that really got people all riled up was seeing Mario without any upper body clothing on and the internet seemed to lose its collective mind over Mario's nipples.
He has a wide variety of outfits he can wear throughout the game, so there's at least something in there for everyone... including dressing Mario up in Peach's wedding dress!
Super Mario Odyssey is due for release on October 27th for the Nintendo Switch. The wedding dress Amiibo version of Peach will also be available, along with the other new Amiibo starting October 27th as well.
Your Daily Blend of Entertainment News
Staff Writer at CinemaBlend.