Xenoblade Chronicles 2 Gets Special Edition, Expansion Pass And More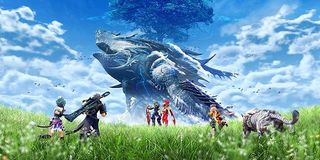 Xenoblade Chronicles 2 is looking like a crowd-pleaser for RPG fans with a Nintendo switch, and everyone will finally be able to dive into the adventure when the game launches on Dec. 1. But if you're looking to go big, Nintendo is offering everything from a DLC season pass to a Special Edition of the game with all sorts of additional goodies.
As they've proven with games like The Legend of Zelda: Breath of the Wild, Fire Emblem Warriors and the most recent Smash Bros., Nintendo is finally going full tilt into DLC with its big launches. Xenoblade Chronicles 2, for instance, has a season pass available for $29.99, which is expected to last you until sometime next fall.
According to an announcement from Nintendo, the season pass is available for pre-purchase now and can even be bundled with your purchase of the core game on the eShop. Unfortunately, the details are a bit slim as to what, exactly, you're paying an additional $30 for. The announcement says that more details will be provided at a later date but, for now, you can expect some additional quests, support items, and a Battle Mode that will let you take on some of the game's most powerful enemies. Eventually, an additional adventure will be dropped into the game, letting players experience a "side story set in the world of Elysium."
While you can certainly pick up the standard edition of XC2 for about $60, Nintendo has also announced a Special Edition of the game will be made available for $99.99. Oddly, it doesn't appear that the Special Edition includes the DLC season pass, so you might want to include that in your financial planning. It does, however, include things like a hardbound art book, a CD boasting a selection of songs from the game and a metal case to hold your game.
And if you really want to play the game in style, Nintendo has also announced a new Pro controller featuring a Xenoblade Chronicles 2 design, which will arrive alongside the standard game and Special Edition on Dec. 1 for $74.99.
I've tried tracking down the expected file size of the game and/or DLC pass for those of you who want to buy digital, but I'm coming up short. Hopefully, Nintendo will offer more details as the game gets closer to launch. The good news is that, while third party games seem to be gobbling up the Switch's limited hard drive space, their first party titles don't typically monopolize too much space. Then again, Xenoblade is a big RPG, so there's no telling what to expect. I'd recommend just getting a hefty microSD card now, because you're definitely going to need that extra storage at some point.
Your Daily Blend of Entertainment News
Staff Writer for CinemaBlend.