Friday The 13th Update Adds Offline Mode And More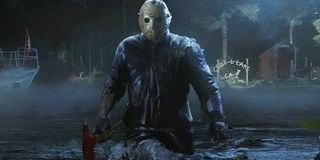 Friday the 13th: The Game continues to evolve with a rather meaty update recently being added to the game. Along with a holiday event meant to help keep players slaying (sleighing?) into the new year, the update includes everything from a new offline mode to new outfits for avatars and Jason, alike.
The announcement for the latest update went live recently on the Friday the 13th blog. The biggest addition is the ability to play the game offline and populate it with bots. So, whether you're worried about an online game losing relevance in the event of a fizzling community or you just prefer to play alone, now you'll be able to do exactly that. As the announcement points out, another advantage of this update is that it will allow players to wander around more freely without worrying about having a negative impact on others playing the game, thereby giving you a chance to explore the maps at your leisure in order to better learn their layouts.
In the new offline mode, you'll be able to select your map, preferred counselor and even the bot difficulty. According to the update, the difficulty mode will determine how quickly the bots forget that you're lurking in the area as Jason. It also affects things like how likely they are to try and confront you and how quickly they react to you once you step out of the shadows. They'll also solve the game-ending puzzles more quickly at a higher difficulty setting.
Another nice addition to Friday the 13th will be a max level increase for players. The maximum player level is shifting from 101 to 150 with the latest update, giving players a good reason to keep chasing that in-game XP. Doing so will also provide unlocks, though the announcement doesn't go over what those unlocks might actually be.
If you're into drop-dead gorgeous fashion, then you'll be happy to learn that the customization options are getting a shot in the arm with the next update to Friday the 13th, too. The only specifics listed are additional clothing color options for Mitch and Fox, though additional surprises have been promised. As for Jason, he's getting a pair of new grab kills, as well as "bloody" skins for several of his outfits.
Finally, there's a holiday event running through Dec. 23 wherein your chances of earning Rare and Epic perks within the game are increased through regular play. Also, beginning Dec. 23 and running through Dec. 27, your chance of finding Pamela and Jarvis tapes will be increased. And just for a little extra fun, CP will be doubled from Dec. 23 through Jan. 2.
Your Daily Blend of Entertainment News
Staff Writer for CinemaBlend.