Super Smash Bros. Ultimate Is Getting Its Own Switch Pro Controller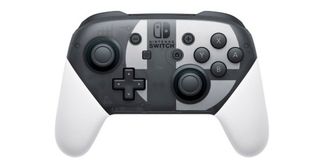 (Image credit: Nintendo)
When it comes to Super Smash Bros. Ultimate, there is a ton of hype surrounding the game and its upcoming release for the Nintendo Switch. A bunch of people are fascinated with the idea of Luigi biting the dust, Mario getting picked off, and King Dedede falling to various villains. Others just can't wait to play through a massive list of characters and stages spanning many of Nintendo's franchises and other popular brands as well. To help make the process of diving into Super Smash Bros. Ultimate much easier for the hardcore fighting enthusiast, Nintendo has revealed that you will be able to get your hands on a specialized version of the Nintendo Switch Pro Controller, designed specifically for the upcoming side-scrolling brawler.
Over on the official Nintendo website, there's already a pre-order portal up and running for the new Switch Pro Controller designed for Super Smash Bros. Ultimate. If you live in North America you can choose to purchase the controller from stores located in the U.S.A.
Right now you can only pre-order the controller from GameStop or Best Buy. The controller is no monetary walk in the park, though. You'll need to shell out a whopping $139.99. Yes, that's right... you'll be paying half the price of a Nintendo Switch just to get the Super Smash Bros. Ultimate and the Special Edition version of the Switch Pro Controller.
Obviously most people are going to be wondering what makes this controller so special. Specifically, what does this controller provide that mirrors the price of the Xbox One Elite Controller, which hovers around the same MSRP but comes with extra paddles, customizable digital pads, and an extra sturdy design.
The controller is pretty wild looking. There's a giant Smash Bros., logo plastered across the center and right-most side of the controller face. The buttons, analog sticks, digital pad and system buttons are all matte gray. What's interesting is that the Smash Bros. logo is a solid silver splash, while the rest of the controller face is a translucent gray. It's a very interesting, high-concept livery choice.
To make the controller even more standout is that it features padded white grips with ridged grooves, so even if your palms get super sweaty, you won't lose a handle on the controller.
The package also comes with a specialized physical copy of Super Smash Bros. Ultimate, which is featured in a black and fiery steel case.
The game itself sports a ton of new content this entry, with characters from Castlevania making an appearance, along with King R. Kool from Donkey Kong Country, and a few stages from Super Mario Odyssey. This is all in addition to every single other entrant on the roster making a return to form, including Solid Snake from Metal Gear Solid and Bayonetta from Platinum Games' Bayonetta series.
You'll be able to get your hands on the special edition of the game and the Pro Controller starting December 7th later this year.
Staff Writer at CinemaBlend.
Your Daily Blend of Entertainment News
Thank you for signing up to CinemaBlend. You will receive a verification email shortly.
There was a problem. Please refresh the page and try again.