Pokemon Go Is Letting Players Nominate PokeStops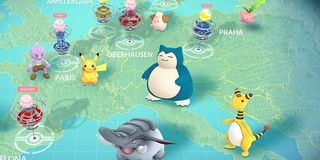 The world of Pokemon Go is about to expand, with Niantic announcing the launch of a new PokeStop nomination program. It's got a pretty limited scope here in the early goings, but the developer has stated plans to expand in the months ahead. The desired outcome, obviously, is that folks will eventually have more places to enjoy all of the perks of Pokemon Go, no matter where they are in the world.
Over on the Pokemon Go blog, Niantic has revealed the first phase of its PokeStop nomination program, which is first kicking off in Brazil and South Korea. Once the ball gets rolling, the plan is to expand the program to other regions until, presumably, it's available everywhere. As the name implies, this new functionality is being created in order to allow Pokemon Go to continue to expand and give players more opportunities to collect free goodies and specific Pokemon in more locations.
The program is going to be limited to players who have reached level 40 and are not playing on a child account. That should help cut down on the number of youngsters submitting their own home as a potential PokeStop, while making sure submissions are coming in from people who have played the game a lot. Niantic has stated these are the "initial" requirements, so maybe the limitations will loosen up at some point in the future.
In short, players will be able to submit details and pictures of a proposed location to Niantic for consideration of a new PokeStop. From there, experienced members of the Ingress Operation Portal Recon project will evaluate the locations for possible inclusion in the game. If that name is ringing a bell, that's because Ingress is an older game from Niantic that actually served as a skeleton for Pokemon Go. In fact, many of the PokeStops in the game were just pulled from player interaction areas in Ingress. While players could suggest locations from the start in that game (and even early on in Pokemon Go), it makes sense that the functionality was cut off in order to focus on nailing down other aspects of the game.
Additional rules for this ongoing program are available through that same blog post noted above. It's very thorough, explaining in detail the process needed to make an actual suggestion for a PokeStop or gym. Even if you don't live in the regions where the program is currently available, it couldn't hurt to read up on all of the details to prepare for future expansions. The FAQ goes over everything from suggestions of what would make a good PokeStop to how to submit the location and photos. If you're a Pokemon Go fan looking to get more stops in your own neck of the woods, now might be a good time to start thinking about potential location suggestions.
Staff Writer for CinemaBlend.
Your Daily Blend of Entertainment News
Thank you for signing up to CinemaBlend. You will receive a verification email shortly.
There was a problem. Please refresh the page and try again.