Mario Kart VR Is Coming To The U.S. But Not From Nintendo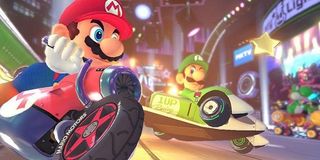 If you've ever wanted to play Mario Kart in virtual reality but don't want to fly all the way to Japan, you might want to book a shorter trip to Washington, D.C. sometime in the next six months. Bandai Namco is bringing a trio of VR arcade games to the States, but they'll only be available through March 2019.
According to a report from Gamespot, it's Bandai Namco who will be hosting the trio of VR arcade games-- even though Mario Kart Arcade GP VR is a Nintendo game. Still, we don't care who is running the show so long as a wider audience finally gets to take these VR games for a spin.
If you haven't seen Mario Kart VR in action, it actually looks like a pretty neat experience. It's based on Mario Kart 8 Ultimate, and it allows players to experience some of their favorite tracks as if they were sitting in the driver's seat themselves. As noted in the original report, you can look around freely while racing Mario, Link and the rest of the Nintendo crew, and even use your hands to grab and hurl items at your opponents. We've got our fingers crossed that this is being used as an extended beta test while Nintendo finalizes a version of the game for home use. We wouldn't expect them to bring the game to PlayStation VR (even though Sony is now playing friendly with cross-play), but it would be pretty rad for Nintendo to publish their first VR game on PC.
That also makes sense because, like the other VR games that are part of this limited engagement, Mario Kart runs on the HTC Vive. The entire production is being called "VR Zone," which sounds exactly like the name of a game or an arcade you would expect to find in the mid-90s. Each game will cost $8 to play and, so far, the National Mall in DC appears to be the only location scheduled to host the games. There's always a chance that, after that period of time, Bandai Namco will pack everything up and head for another six-month stint in a city like L.A. We'll just have to wait and see.
As for the other games folks can give a try, there's one called Argyle Shift that has you trying to deliver a mech to a futuristic war zone, and another called Ski Rode that lets you hurl yourself down a snow-covered hill. Trying out all three games will set you back $24, so hopefully they're decently lengthy and super fun to play.
It's certainly interesting to see Nintendo and Bandai Namco experimenting with VR gaming, but we've got our fingers crossed this means they've been giving some serious thought to diving in head-first. If you want to help encourage them, be sure to drop by The VR Zone and give the games a try.
Your Daily Blend of Entertainment News
Staff Writer for CinemaBlend.