Sign-Ups For The Dreams Closed Beta Have Begun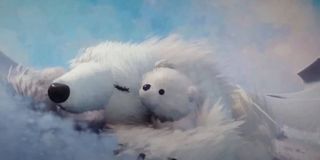 Media Molecule is gearing up to let the PlayStation 4 community flex its creativity muscles, with sign-ups for the Dreams "Creator Closed Beta" going live this weekend. If you want to take this inventive suite of tools for an early test drive, now is your chance to join in on the fun.
Media Molecule sent out the above tweet this Friday, explaining that the sign-up process for Dreams is officially live. The tweet offers a link for both the European and U.S. regions, so make sure you click on the correct one before attempting to earn early access to the game.
Dreams was announced a few years back and, coming from the studio responsible for LittleBigPlanet and the criminally underappreciated Tearaway, it's no surprise that this latest offering from Media Molecule is all about empowering players to create something magical.
As outlined in the game's FAQ, Dreams lets you do everything from creating a game and painting a picture to composing a song and creating/voicing your own character. Think about what people were able to create with LBP and multiply it by a hundred. The game is essentially an array of tools that will let you create to your hearts content, but done in a way that's easier than, say, learning how to program or play the piano.
So, yeah, it's kind of difficult to explain and way easier to simply pick up, dive in and discover what the heck I'm talking about for yourself. So be sure to sign up for the upcoming beta. You need to be 18+ in the U.S. and Canada but, otherwise, it's open for everyone to sign up. You'll need to give Media Molecule your name, email address, and PSN ID and then, boom, you're signed up for the beta.
The game's FAQ goes on to explain that the beta goes live on January 11 and Media Molecule is going to try and get in as many players as possible. So it sounds like, if you sign up, there's a pretty good chance you'll be joining the cacophony of creation next Friday. The beta will run through Jan. 21, which means you'll have 10 days to create to your heart's content.
Unlike many betas, Media Molecule is using this to actually help guide the final stages of development. They're actively seeking player feedback on things like whether or not the tutorials were helpful and if you were able to actually create what you wanted to. If things don't work or if you find something confusing, they want to hear about it.
It's also worth noting that the beta is under an NDA, which means you aren't allowed to stream it or post videos of your time with the game. The FAQ offers answers on a whole bunch of additional questions, so be sure to give it a read if you're thinking of signing up for the beta.
Your Daily Blend of Entertainment News
Staff Writer for CinemaBlend.