Ace Combat: Assault Horizon Sexy New Fighter Plane Screenshots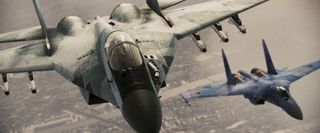 Namco Bandai's upcoming aerial combat simulator, Ace Combat: Assault Horizon is an amazing looking game and never ceases to amaze me on how visually stunning the planes are and how engaging the atmosphere looks.
Namco released a handful of new screenshots each for some of the operable aircraft in the action-packed, cinematic style aerial simulator. Gamers can scope out some sexy new pics of the Mig-29A, Su-34 and Su-47, just to name a few.
The game itself seems to be designed in the same vein of many other recent blockbuster action titles, with a hint of Hollywood style cinematic flair and lots of over-the-top situations thrown at players to keep the action both intense and action-packed. The flying mechanics are obviously geared toward casual gamers, but with the way the game is designed it looks like it could easily become a huge sleeper hit of the fall.
You can check out the brand new screenshots for Ace Combat: Assault Horizon below or learn more about the game by visiting the Official Website. Namco's latest in the Ace Combat series is scheduled to release for the Xbox 360 and PS3 on October 11th.
Staff Writer at CinemaBlend.
Your Daily Blend of Entertainment News
Thank you for signing up to CinemaBlend. You will receive a verification email shortly.
There was a problem. Please refresh the page and try again.