Army Of Two: The 40th Day Custom Mask And Armor Creator Launches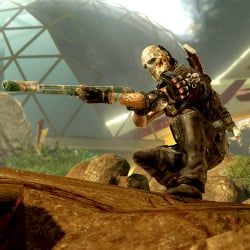 There are a few fashion-conscious shooter fans out there and EA wants to show they care. They've unveiled a custom mask and armor creation toolset on the Army of Two: The 40th Day website.
The Flash-based program allows you to create custom designs for your character's shoulder pads and masks. The designs can be created with both text and shapes. You can combine shapes together to create emblems, which can then be shared with your friends. All of these creations can be imported into the game itself.
"You and your co-op partner can then hit the warzone sharing the same emblems while each having unique custom mask & armor designs," suggests the website. Well, I guess that's appealing to someone. At least you'd hope so, after EA made this whole website and all.
AoT: 40th Day arrives on January 12th in North America. It's due in Europe on January 8th.
Your Daily Blend of Entertainment News
Staff Writer at CinemaBlend.