Assassin's Creed Unity Patch Will Fix Crashes, Falling Through World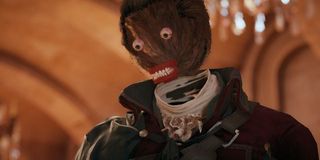 Assassin's Creed Unity launched in pretty rough shape this week. Ubisoft announced in a new blog post that patches are on the way, though.
Unity already received a 900MB patch on day one to fix a wide range of problems with the A.I., graphics, camera and HUD. Bugs in the single-player and co-op missions were also addressed.
The second patch for Assassin's Creed Unity will fix these problems:
Arno falling through the ground.
Game crashing when joining a co-op session.
Arno getting caught inside of hay carts.
Delay in reaching the main menu screen at game start.
Ubisoft says that they're investigating many other problem areas that players have been complaining about. In the blog post, they specifically mention frame rate, collision, co-op matchmaking and Helix Credits as priorities. These were apparently the sources of many complaints about the game.
"We will be providing additional details in the coming days, so check back for updates. In the meantime, please continue to send us your feedback, and leave a comment if you have any questions for us."
As you might imagine, a lot of players did leave comments on the blog post. In the 13 hours since that blog post, over one thousand comments were made. Here are a few samples of what they're saying:
Plenty of games get harsh criticism for launch-day bugs. In the case of Assassin's Creed Unity, there might be a bit more anger than usual though because of how Ubisoft handled reviews. They gave review copies to critics prior to launch but didn't permit them to publish reviews until twelve hours after the game launched. This meant that critics were prevented from telling gamers about the various bugs before they potentially bought it. It gave some the impression that Ubisoft was trying to hide these problems as long as possible to prevent lost sales.
The unexpected appearance of microtransactions throughout the game probably didn't help tempers, either. Players can buy an in-game currency called Helix Credits to access customization items, boost their attributes or upgrade weapons. The most expensive bundle of Credits costs a cool $100.
While I doubt Ubisoft's going to bend on the microtransactions at all, I hope they at least clean up the game's various bugs. If they can't turn things around on their biggest fall release, customers won't forget it.
Staff Writer at CinemaBlend.
Your Daily Blend of Entertainment News
Thank you for signing up to CinemaBlend. You will receive a verification email shortly.
There was a problem. Please refresh the page and try again.