Battlefield 3 In-Game Graphics Vs Real Life Comparison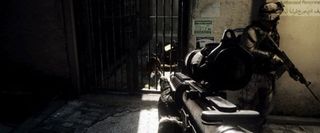 Comparisons are great. They didn't really kick it into high gear until the PS3/Xbox 360 era and most gamers (including myself) have eaten up the comparison articles like rapid dogs eating fresh meat tossed to the ground from a generous butcher. Well, this newest comparison isn't between the console war machines, the Xbox 360 and PS3, it's between the PC version of Battlefield 3 versus…well, real life. How do you think Battlefield fared?
Well, GamingBolt conducted the comparison and the results are somewhat astonishing. Some of you may remember that the last game to get compared to real life that had gamers and non-gamers alike baffled was Crytek's Crysis, way back when.
The newest comparison between Battlefield 3 and real life shows quite an advancement in technology, especially when it comes to particle effects and environmental ambiance. Of course, still pictures of some games can easily pass for real life with the right angles and lighting techniques in effect…it's the moving pictures that usually erase any confusion about what's real and what isn't.
You can check out the complete comparison between real life and the PC version of Battlefield 3 over at GamingBolt. If you have the rig to play the game then you can head on over to the Official Battlefield 3 Website to setup your pre-order now for some special DLC goodies.
The Call of Duty-killer is set for release on October 25th later this year for the Xbox 360, PS3 and PC.
Staff Writer at CinemaBlend.
Your Daily Blend of Entertainment News
Thank you for signing up to CinemaBlend. You will receive a verification email shortly.
There was a problem. Please refresh the page and try again.