The Best PS4 And PS3 Games Of 2014, According To PlayStation Gamers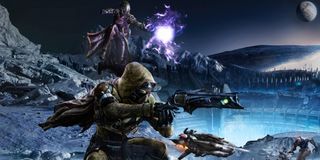 This holiday season, Sony asked the PlayStation community to vote on their favorite games from 2014. Over 400,000 gamers answered the call.
Destiny was voted the best PS4 game of the year. That's no big shock, as it was apparently the best-selling game too. The top four was rounded out by Dragon Age: Inquisition, inFamous Second Son and Far Cry 4. Second Son was the only PS4 exclusive to make this or any of the best-of-2014 lists announced by Sony.
On the PS3 side, Destiny only got the bronze medal. It was edged out by RPGs Dark Souls 2 and South Park: The Stick of Truth. Far Cry 4 managed to sneak onto that list, too. Ubisoft took a lot of flak over troubles with Assassin's Creed Unity and The Crew but they managed to please a lot of people with FC4.
Gamers also voted on their favorite PlayStation Plus freebies. Unsurprisingly, they preferred the big games that Sony gave away rather than the small indies. The free PS3 games from early in the year - BioShock Infinite, Batman: Arkham City and Tomb Raider cracked the top four. Injustice: Gods Among Us Ultimate Edition, the only PS4 retail game released through PS Plus, rounded out the list. Hopefully we'll see other full-sized PS4 games given away through Plus this year now that the PS4 is over a year old and now boasts a much larger library.
Maybe the least surprising pick by the PlayStation community was their Most Anticipated Game of 2015. They decided that PS4 exclusive Uncharted 4: A Thief's End was the game they're most excited about this year. Considering how widely loved the previous games in the series were, it's natural that there would be a lot of anticipation for Nathan Drake's new-gen debut.
Here were the full results published on PlayStation.Blog this weekend:
Best PS4 Game
Destiny
Dragon Age: Inquisition
inFamous Second Son
Far Cry 4
Best PS3 Game
Dark Souls 2
South Park: The Stick of Truth
Destiny
Far Cry 4
Best PS Vita Game
Child of Light
The Binding of Isaac: Rebirth
Freedom Wars
Sword Art Online: Hollow Fragment
Best Digital Release
inFamous First Light
The Walking Dead: Season Two
Outlast
The Binding of Isaac: Rebirth
Best PlayStation Plus Game
BioShock Infinite
Injustice Gods Among Us Ultimate Edition
Batman: Arkham City
Tomb Raider
Most Anticipated Game of 2015
Uncharted 4: A Thief's End
Batman: Arkham Knight
Persona 5
Metal Gear Solid 5: A Phantom Pain
PlayStation Blog's editors and Developer Relations managers also selected their own favorites. You can read their picks here.
Staff Writer at CinemaBlend.
Your Daily Blend of Entertainment News
Thank you for signing up to CinemaBlend. You will receive a verification email shortly.
There was a problem. Please refresh the page and try again.