Borderlands New Screenshots Features Female Genitalia?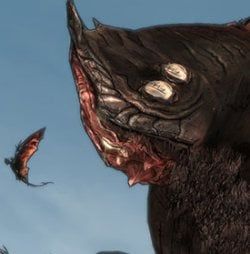 If you don't know what Borderlands is all about, just know that it's going to be one of the best games ever, if Gearbox can iron the kinks and ensure that the game follows suit with the fact sheet. With that said, 2K Games has released some news screenshots for this upcoming post-apocalyptic vehicular shooter.
While we may have covered Borderlands religiously last year in our Borderlands week of hype, 2K has yet to send any assets our way. It's all right, though, the tears have dried and we're quite forgiving. Nevertheless, we stumbled upon some new screenshots over at Rock Paper Shotgun and they're looking great.
Despite the cool screenshots and new graphical art-style, it appears most of everyone over at RPS is more concerned with the monster that has a face that looks like female genitals. It's unfortunate that the half-million guns and customizable vehicle features were overlooked in the article. Oh well.
Also, I'm not sure why but somehow the discussion board at the bottom of the article centers around a monster we've long known about in the game that has somehow been associated with some non-kid friendly terminology. Although, based on the main image I can see how the association came about.
Anyway, you can check out the screenshots below or visit the Official Website for more information. Hopefully this news doesn't stain the game with a bad rep from here on out. But we'll be gunning for it over here at Blend Games, whether the monsters have noses that look like a clitoris or not.
Image 1 of 6
Your Daily Blend of Entertainment News
Staff Writer at CinemaBlend.