Call Of Duty: Advanced Warfare Multiplayer Adds Supply Drop Daily Challenges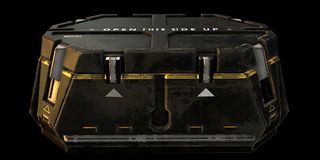 Call of Duty: Advanced Warfare players can now earn new rewards online. The latest update for the Xbox One, PS4 and PC versions introduces Supply Drop Daily Challenges.
Each day, players will be given a randomized multiplayer objective to complete. These objectives will be visible in the "Challenges" and "Find Match" menus. These daily challenges can include playing specific game modes or getting a set number of kills with a weapon.
When you complete one of these challenges, you'll earn an XP bonus or Supply Drop. Supply Drops can include temporary boosts, weapon variations or character gear. The Supply Drop Daily Challenges could also reward rare items from a new KVA Recon Character Gear Set. Daily Challenges are actually the only way for players to earn the KVA Recon set.
"The design for the KVA Recon gear was intended to be bold and high-contrast while still feeling grounded," said associate concept artist Alex Jessup on Sledgehammer Games' blog. "The matte green on white was inspired by winter gear, and the dark-on-light makes it stand out while still looking military. Instead of trying to be flashy, I wanted a minimalistic utilitarian look, much like actual recon equipment."
The patch also includes a number of fixes for matchmaking, profile switching and other aspects of the game. The full list of changes are below. Beneath the patch notes you can find a few screenshots of the KVA gear.
In-Game Updates:
Fixed unlocking issues with the AE4 for Digital Edition owners that own Season Pass. (Xbox only)
Matchmaking improvements.
Connectivity improvements.
Removed skull HUD element from System Hack Scorestreak UI effect.
Adjusted the score value the System Hack Scorestreak.
Increased the timing between kills to count Multikills.
Addressed rare issue where CTF flag was not being returned immediately.
Fixed rare crash issue when switching profiles.
Adjusted the time limit expiration for Red Baron gear after challenge has been completed.
Fixed various out of map exploits.
Security and Anti-Cheat Updates:
Updated Security features.
UI Updates:
Updated base AE4 icon as it was displaying the AE4 Widowmaker weapon.
Updated Playlist Menu.
Fixed issues with localization copy in the in-game store.
Updated sorting of Character Gear within Customization menu.
Challenge Updates:
Added new Supply Drop Daily Challenges.
Clan Updates:
Fixed an issue where Clan Wars Bonus XP was not being awarded.
Broadcaster UI Updates:
Addressed rare issue with eSports Broadcaster HUD disappearing.
Ranked Play Updates:
Addressed issue where Join Session in progress in Ranked Play was still active.
Addressed issue where players where dropping multiple divisions after a match in Ranked Play.
Addressed rare issue with wins counting as losses in Ranked Play.
Staff Writer at CinemaBlend.
Your Daily Blend of Entertainment News
Thank you for signing up to CinemaBlend. You will receive a verification email shortly.
There was a problem. Please refresh the page and try again.