Call Of Duty: Black Ops 2 Revolution DLC Arriving On PS3 And PC Today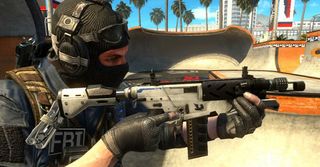 Call of Duty: Black Ops 2's first map pack, Revolution, is spreading beyond the Xbox 360 today. PS3 and PC gamers will be able to download the new multiplayer content by the end of the day.
Revolution introduces four maps for the game's competitive multiplayer modes. The new locations include a Venice Beach skatepark, hydroelectric dam, snowy mountainside and desert resort. The descriptions for the maps can be found here.
The fifth and final map, Die Rise, is designed for the zombie co-op mode. Players will fend off zombies in crumbling Chinese skyscrapers. A new "Turned" mode lets players become zombies and chase down a single human player. The zombie who kills the survivor will respawn as the sole human. The human player earns points the longer they survive.
Rounding out the DLC pack is a new weapon, the Peacekeeper SMG. This submachine gun is said to have the range and accuracy of a rifle, at the expense of some close-quarters firepower. Players will have immediate access to the Peacekeeper and its various XP challenges.
The Revolution map pack costs $15 to download. If you plan on buying all four map packs for the game, the $50 Season Pass is a better deal.
Staff Writer at CinemaBlend.