Call Of Duty Featured In PSN Spring Fever Sale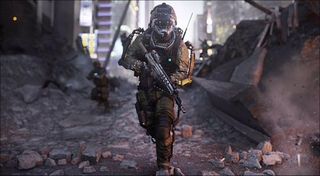 This week's Spring Fever lineup on the PlayStation Network has a particular set of skills. These skills include discounts on the Call of Duty series, the new indie title Shovel Knight, as well as the Taken movie franchise.
If you've ever wanted to dip into the Call of Duty series but weren't sure if the annual first-person shooters were right for you, now would be a good time to check out a variety of the games at a fraction of the regular cost. The eighth and final week of the Spring Fever promotion for PlayStation Network is live, offering slashed price tags for several COD games, as well as some DLC. According to the official announcement, these prices will be good through April 27.
For starters, the Call of Duty: Black Ops II and Season Pass Bundle for PS3 has been marked down to $45. Considering the fact you'd usually be expected to pay $99.99 for that package, you can see why this week's sales are kind of a big deal. And then there's the Black Ops II with Revolution Map and Black Ops with First Strike bundle for the PS3. That collection would usually set you back $109.99, but now you can grab it for $29.70.
There are several more PS3 sales, too, so you'll want to check out the full listing to see if anything grabs your fancy. As for you PlayStation 4 gamers, though, you haven't been forgotten.
Advanced Warfare's digital pro edition, usually going for $99.99, can now be yours for $69.99 on Sony's latest home console. The Gold Edition of that same game has been marked down from 60 bucks to 50 bucks. Similar price changes can be found for Call of Duty: Ghosts, too, including a drop in the Gold Edition from $59.99 to just $19.80.
In case you're not into shooting people, why not try whacking them with a shovel? This week's Spring Fever sale also includes the freshly unearthed Shovel Knight. Marked down from $15 to $13.49, this brilliant throwback to classic action/platforming games of yesteryear is a three-way cross buy title and, for one week only, you can get it at a slight discount.
Finally, this week's promotion includes a sale on movies from the Taken series. Both Taken and Taken 2, as well as their extended cuts, have been marked down to $10 a pop in either standard or high definition. A bundle including Taken 2 and some bonus features is also being made available at the same price for HD fans.
And with that, the 2015 Spring Fever sale will officially conclude for the PlayStation Network. Did you find anything worth snatching? Convinced to buy a Call of Duty missing from your collection? What about Shovel Knight? Please tell me you're getting Shovel Knight. Let us know in the comments below.
Staff Writer for CinemaBlend.
Your Daily Blend of Entertainment News
Thank you for signing up to CinemaBlend. You will receive a verification email shortly.
There was a problem. Please refresh the page and try again.