Call Of Duty: Ghosts Doing Very Well On Xbox One And PS4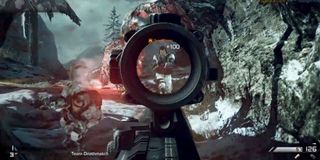 Amidst all of the "next gen console launch" hullabaloo, a little known video game series has managed to rise to success on both the PlayStation 4 and Xbox 360, surprising the world with some pretty staggering sales figures and stats. It's called Call of Duty: Ghosts, and it's taking the gaming world by storm.
Of course, I'm only being slightly sarcastic above. Of course Call of Duty is doing well on next gen. For the time being, modern gamers are all about shooting dudes in the face with bullets and, until the CoD series royally botches the formula, it doesn't look to be moving from its top spot among the gaming masses.
According to the latest press release from Activision, Ghosts has earned itself a bit of notoriety amongst the 23 PlayStation 4 and 22 Xbox One launch titles, becoming the most played Xbox One multiplayer game in the world, the top-selling Xbox One title at "leading North American retailers," the number one Xbox One standalone title in the U.K., the number one most-played PS4 game, and the top-selling PS4 game at those same "leading retailers." Said retailers include Best Buy, GameStop, Target and Walmart, in case you were curious.
In other startling news, cats and dogs aren't getting along very well, the sun is bright and water is wet. Yes, I'm being overly cynical here but, at this point, is anyone actually surprised by this news?
"Around the globe, Call of Duty: Ghosts is leading the next generation," said Eric Hirshberg, CEO of Activision Publishing, Inc. "As we've said before, we've got the best community of fans in the world and we're thrilled they're coming with us to the next generation."
I'd argue that Hirshberg's comment should maybe be changed to "most consistent" or perhaps "supportive" community of fans in the world. Spend one match online in any iteration of Call of Duty and the various homophobic, racist and generally unpleasant words you'll hear being slung around don't exactly translate to "best community of fans" in my book. But I digress.
Ready for some more stats? Good! Cause we've got 'em! According to Activision, more than a billion multiplayer matches of Ghosts have already been played in just a few weeks since the game's launch. Players have already Prestiged more than 2.2 million times, leading me to wonder what, exactly, all of these people do with their lives, other than play an online FPS, of course. Finally, more than 3.3 trillion Experience Points have been earned across all versions of the game.
Given all of that, I'm not sure anyone is actually reading this article. I have to assume that, if you have an interest in games, you're probably playing Call of Duty: Ghosts right this very second. Soooo, yeah…Carry on then.
Staff Writer for CinemaBlend.
Your Daily Blend of Entertainment News
Thank you for signing up to CinemaBlend. You will receive a verification email shortly.
There was a problem. Please refresh the page and try again.