Competitive Cook-Off Trailer For Wii's Cooking Mama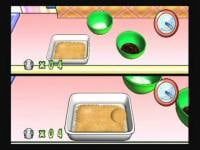 There seriously couldn't be a more nut-cracking tactic from Nintendo – to cripple the behemoths that are the Xbox 360 and PS3 – than with Cooking Mama. It's one of the simplest looking games that is already poised to hit hard on the sales charts. And accordingly, there's a new trailer showcasing the game's split-screen action.
With a slated release for the second quarter of this year, Cooking Mama will surely incite the chef in us all with its casual game approach and corny-enough-to-be-fun themes. In the full game, gamers will use the Wii-mote to crack eggs, flip burgers and even make sushi – just to a name few of the many cooking challenges available. You can check out exactly how the multiplayer action goes down in this latest trailer of the game. So enough blabber...you came here to see how the cooks in this video throw-down, and you'll get to see just that. Enjoy.
Your Daily Blend of Entertainment News
Staff Writer at CinemaBlend.