DarkSiders 2 Premium Xbox 360 Avatar Items Launched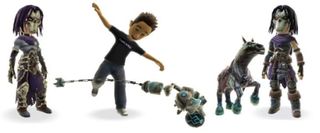 THQ and Vigil Games announced today that a series of new Avatar gear has been made available to Xbox 360 users who enjoy donning their 3D Avatars in some sweet gaming-related gear. In addition to this, 360 users can grab a free Avatar t-shirt just by liking the DarkSiders Facebook page.
Jim Huntley, Vice President of Global Brand Marketing briefly commented, saying...
Better grab your Avatar t-shirt while supplies last (even though they're digital there is still a limited amount available), those who want to nab that t-shirt can do so by visiting...well, wait how about you scope out the rest of the article first before I toss you that link, eh? Yeah, patience, Padawan.
THQ also wanted gamers to know that the limited DarkSiders II collector's edition is also available for $99, which comes with a life-sized Death replica mask, a special limited edition version of the game, a special Shadow of Death scythe and armor set with enhanced in-game stats, a digital copy of the DarkSiders II soundtrack, and a hardcover art-book. I'd guess the pack warrants the $99 price tag, eh?
The game's newly cemented release date is set for August 21st for the Xbox 360, PS3 and PC. The Wii U version of the game is set for release when the console becomes available.
You can now go grab that free Avatar t-shirt by visiting the Official DarkSiders II Facebook Page.
Your Daily Blend of Entertainment News
Staff Writer at CinemaBlend.