Dead Island Digital Comic Released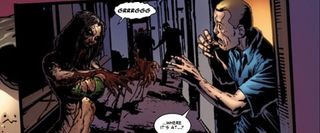 Today Dead Island publisher Deep Silver released a six-page digital comic based on the survival horror game. The comic can be read for free through Marvel's website.
The comic acquaints gamers with Roger Howard. Roger is a journalist conducting an investigation on the tropical island of Banoi. He believes that the island's resources are being illegally exploited by corporations. While poking around the Royal Palms Resort Hotel, he stumbles on something a lot more horrible than industrial pollution, though. Spoiler alert: it's a bunch of zombies.
The Dead Island comic was written by William Dailey. Jorge Lucas, Juan Santacruz, Diego Olmos, Carlos Rodriguez and Sergio Arino supplied the art. Christian Nauck created the zombie-tastic cover.
Deep Silver distributed hard copies of the comic at San Diego Comic Con this summer. If you missed it, though, you can read it online here. Note that you'll need Flash to view it, though.
In Dead Island, Banoi has been overrun by zombies. Players control one of the remaining humans and must complete missions throughout the open-world resort. The campaign can be played with up to four players. Firearms and ammo are scarce so you'll have to rely on many improvised weapons in order to fend off zombies. The zombies, co-op and melee have resulted in several Dead Island or Left 4 Dead comparisons.
Dead Island will be released on September 6th in North America for the PS3, Xbox 360, PC, and OnLive. The rest of the world will receive the game on the 9th.
Your Daily Blend of Entertainment News
Staff Writer at CinemaBlend.