Dead Space 3 System Requirements Are Suited For A PC From 2004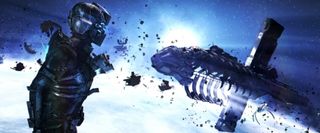 If you had a top of the line PC from eight years ago then congratulations, you can run Dead Space 3. The system requirements were unveiled for the game and the bare minimum requirements will probably be joy to the eyes of laptop gamers, poor people in developing countries and the entire middle class of the good 'ole US of A. It's good EA and Visceral Games are looking out for the little guys, the Obama-folk. But I'm sure there are some high-end settings for the Romney-kin as well, so they're covering all the bases.
Trendy Gamers spotted the requirements on the official Origin pre-order page. If you're the kind of gamer who isn't keen on upgrading your PC, you don't know what your PC specs are but you bought one after 2004, or you haven't picked up a new PC since the last couple of years, you're pretty much good to go. Check out the requirements for Dead Space 3 below.
FOR WINDOWS XP (SP3), Vista (SP1) or WINDOWS 7
* 2.8 GHz processor or equivalent
* 1 GB RAM (XP), 2 GB RAM (Vista or Windows 7)
* NVIDIA GeForce 6800 or better (7300, 7600 GS, and 8500 are below minimum system requirements)
* ATI X1600 Pro or better (X1300, X1300 Pro and HD2400 are below minimum system requirements)
* 256MB Video Card and Shader Model 3.0 required* The latest version of DirectX 9.0c
* At least 10GB of hard drive space for installation, plus additional space for saved games.
* INTERNET CONNECTION, ONLINE AUTHENTICATION, AND END USER LICENSE AGREEMENT REQUIRED TO PLAY.
I love the capitalized part about the internet connection required to play. It's as if they're hammering it home that until you go online, stay online and then agree to the EULA, you won't be blasting space-necromonsters to a second oblivion.
Remember back in the day when you used to buy a game and then install it and play and that was it? No worries about legal lingo, getting sued if you play the game while taking a dump, or having the company spy on you while you play, making those moments where you spend too much time at the virtual strip clubs both awkward and uncomfortable. Yeah I miss those days, too.
Anyway, Dead Space 3 is scheduled to launch in February of 2013. You can check out 17 brand new minutes of gameplay right here or visit the Official Website to learn more about the action-shooter.
Your Daily Blend of Entertainment News
Staff Writer at CinemaBlend.