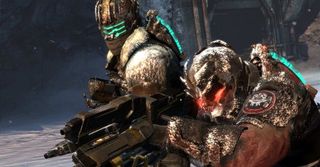 Dead Space 3 players quickly discovered an easy way to accumulate resources in the game without paying a dime. You don't have to worry about Visceral Games patching out this exploit. EA says they included that in the game on purpose.
The exploit in question is located at the end of Chapter 8. A random item will spawn on a shack with a power generator. After picking it up and exiting the shack, the player can re-enter to find a new item has instantly spawned on the ground. For a more detailed guide, check out the video.
The in-game shop for Dead Space 3 allows players to purchase resources for real-world money. A bug that lets you get as many resources as you want seems like it completely undermines those microtransactions. However, EA says they're fine with it.
"The resource-earning mechanic in Dead Space 3 is not a glitch," an EA spokesperson told Gaming Blend. "We have no plans to issue a patch to change this aspect of the game. We encourage players to explore the game and discover the areas where resources respawn for free. We've deliberately designed Dead Space 3 to allow players to harvest resources by playing through the game. For those that wish to accumulate upgrades instantly, we have enabled an optional system for them to buy the resources at a minimal cost ($1-$3)."
In other words, feel free to farm up as many of those free resources as you want. If you'd rather just save yourself some time, though, you can just instantly buy resources at the in-game shop. Fair enough. That was the trade-off even if the bug didn't exist.
Dead Space 3 is now available in North America, Australia and Europe.
Your Daily Blend of Entertainment News
Staff Writer at CinemaBlend.