Deus Ex 3 Details Coming Soon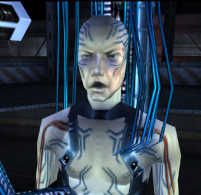 About nine months after the teaser trailer hit the interwebz, more information about Deus Ex 3 is about to be revealed. A gaming mag over in Jolly Old England has a story about the highly anticipated sequel in an upcoming issue.
According to a post on NeoGAF forums, the next issue of PC Zone will have a story about the third installment in the conspiracy shooter series. According to the PC Zone advertisement, the issue will hit newsstands on October 9th and presumably subscribers will get their hands on the issue a week or so beforehand. So expect some solid info on the game soon-ish.
The only things really known at this point are that it'll be for Xbox 360, PS3, and PC and it might be a prequel to the other two games. It'll be nice to finally catch a glimpse of a screenshot or two. In case you didn't catch it, here's the teaser trailer again.
Staff Writer at CinemaBlend.
Your Daily Blend of Entertainment News
Thank you for signing up to CinemaBlend. You will receive a verification email shortly.
There was a problem. Please refresh the page and try again.