Dungeon Defenders First Game To Offer Multiplayer Cross-Platform Gameplay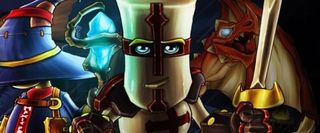 Reverb Publishing and Trendy Entertainment's Dungeon Defenders for the Xbox Live Arcade, PSN, iOS, Android and PC game platforms is the first of its kind to offer cross-multi-platform gameplay for up to four players on more than two different platforms. The news comes on the heels of Trendy Entertainment's use of GameSpy's newly announced open API suite for indie developers to easily and freely integrate GameSpy multiplayer and online capabilities into video game projects.
Some of you may remember that train wreck known as Shadowrun which first introduced PC versus Xbox 360 competitive multiplayer options but that game was crap. Dungeon Defenders takes things a step further, however, allowing for more than just two different platforms to have cross-interactivity.
As stated in the press release…
This is like dream-come-true kind of news because I'm sure there are a ton of gamers who would love to see this kind of implementation used on bigger, more hardcore games *cough*Call of Duty*cough*, *cough*Battlefield 3*cough*.
Gamers can get a fill of more tower-defense action when Dungeon Defenders: Second Wave is scheduled to release later this year for the PSN, XBLA and Sony's Xperia PLAY.
You can learn more about Dungeon Defenders by heading on over to the Official Website.
Staff Writer at CinemaBlend.
Your Daily Blend of Entertainment News
Thank you for signing up to CinemaBlend. You will receive a verification email shortly.
There was a problem. Please refresh the page and try again.